That depends, says the independent analyst, formerly at Andreessen Horowitz, on how you define the market.
From "Market definitions and tech monopolies" posted last week on his website:
One of the basic building blocks of any competition case is market definition. If you're claiming that a company has market dominance, and that it's abusing that dominance, what market are we talking about? Very obviously, the company being prosecuted tries to draw the definition as widely as possible – 'we compete with the entire planet!' – and the prosecutor tries to draw it as narrowly as possible – 'Ferrari has a monopoly of rear-engined Italian sport cars with horse logos!'
The fun part of this is that both of these definitions are true, and so you have dig rather deeper and work out what problem you're trying to solve to work out what definition to use, because very often, picking the definition decides the outcome of the case, before it's even started…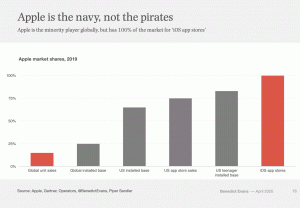 Apple is on the other side of a lot of these conversations. An Apple lawyer would say that it sells perhaps 15% of all the phones sold on Earth each year and that clearly doesn't look like market dominance. However, about 25% of all the smartphones actually in use today are iPhones – there are about 1bn iPhones in use and 3-3.5bn Androids (iPhones have a longer average life). Is the global market what matters? If you're a US retailer, or a developer trying to reach US consumers, Apple doesn't have 25% of the installed base – in the USA, it has over half. Google told the DoJ that 60% of its US mobile search traffic comes from iOS devices, and you will hear similar numbers from other companies and indeed the mobile network operators themselves. Taking this further, Piper Sandler's survey of US teenagers reports that over 80% of them have an iPhone.
So, if you're trying to sell to American teenagers, the fact that Apple has 15% of global handset unit sales is as meaningless as the fact that Amazon has 1% share of global retail. What matter is the install base of your customers, and in that market definition, Apple has 80%. Again – pick your market. Ironically, you can see Apple itself doing this – it uses the high numbers when it talk to developers and the low number when it talks to lawyers.
My take: Not the first time Evans has said this. See, for example, Is Apple a monopoly?, posted here last summer.