From a Q&A with Morgan Stanley clients that landed on my desktop Thursday:
What is our view on AAPL valuation relative to peers and relative to our view of long-term revenue growth? With the expected iPhone 12 launch fast approaching, investors are asking us how iPhone replacement cycles play into Apple's growth profile going forward, and how that stacks up relative to other consumer and tech platform peers.
Our view: Apple deserves a platform multiple given its superior ecosystem of products and services that leads to high customer retention and repeat purchases. iPhone remains a core driver of Apple revenue (49%) and profits (44%). In recent years, iPhone replacement cycles elongated from 2.7 years in FY16 to an estimated 4.3 years currently (Exhibit 1) which offset strong installed base growth and translated to just 1% annual iPhone revenue growth from FY16 to FY19.
Despite this headwind, the strength of other products in the Apple ecosystem combined with significant share repurchases translated to 6% annual revenue growth and 15% annual EPS growth for the company over the same period.
But what if replacement cycles hadn't elongated over this period? Assuming a flat iPhone replacement cycle translates to iPhone revenue growth and total Apple revenue growth of 14% annually over the same period (Exhibit 2), slightly ahead of consumer and technology platform peers (Exhibit 3).
Normalizing Apple's historical growth for stable replacement cycles is a better predictor of future growth given we believe replacement cycles will at worst stabilize and at best shorten materially going forward, especially when considering iPhones are currently upgraded less often than PCs (Exhibit 1). We model iPhone replacement cycles shrinking to 3.7 years in FY21, from 4.3 years today and then stabilizing at 3.9 years longer-term, more in-line with PC replacement rates (which we still view as conservative).
Maintains Overweight rating and $130 price target.
Cue Exhibits 1-3 (click to enlarge):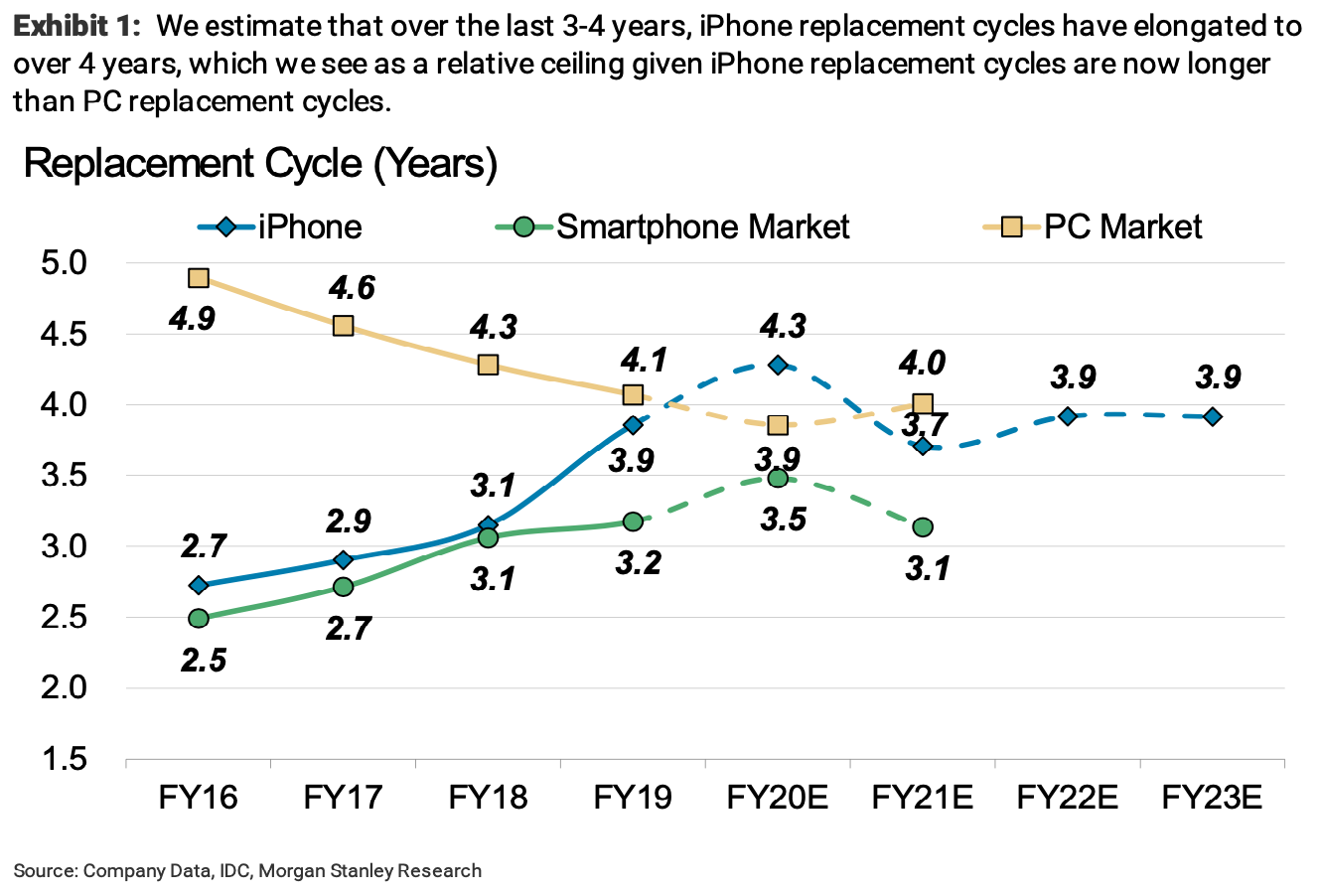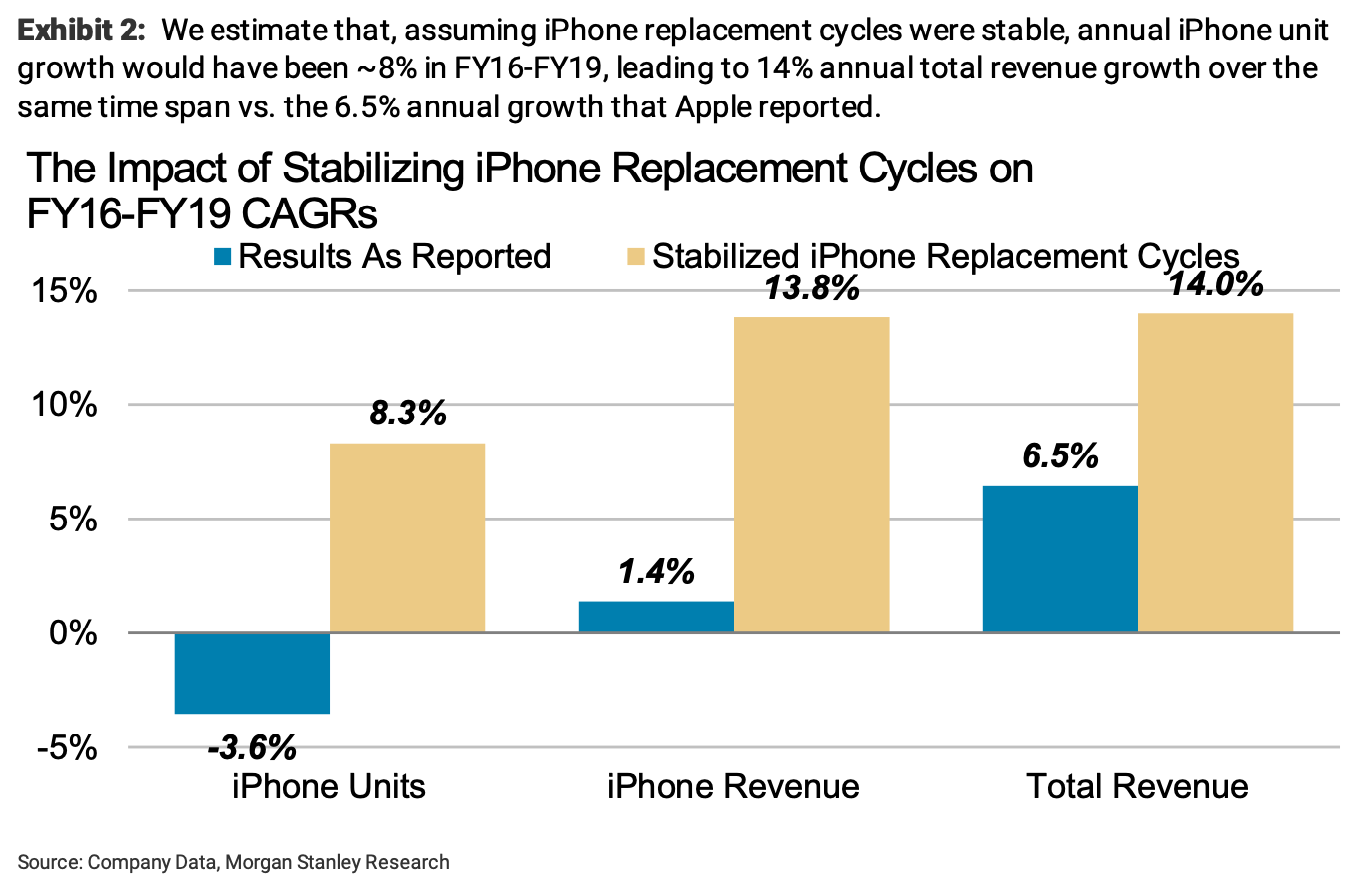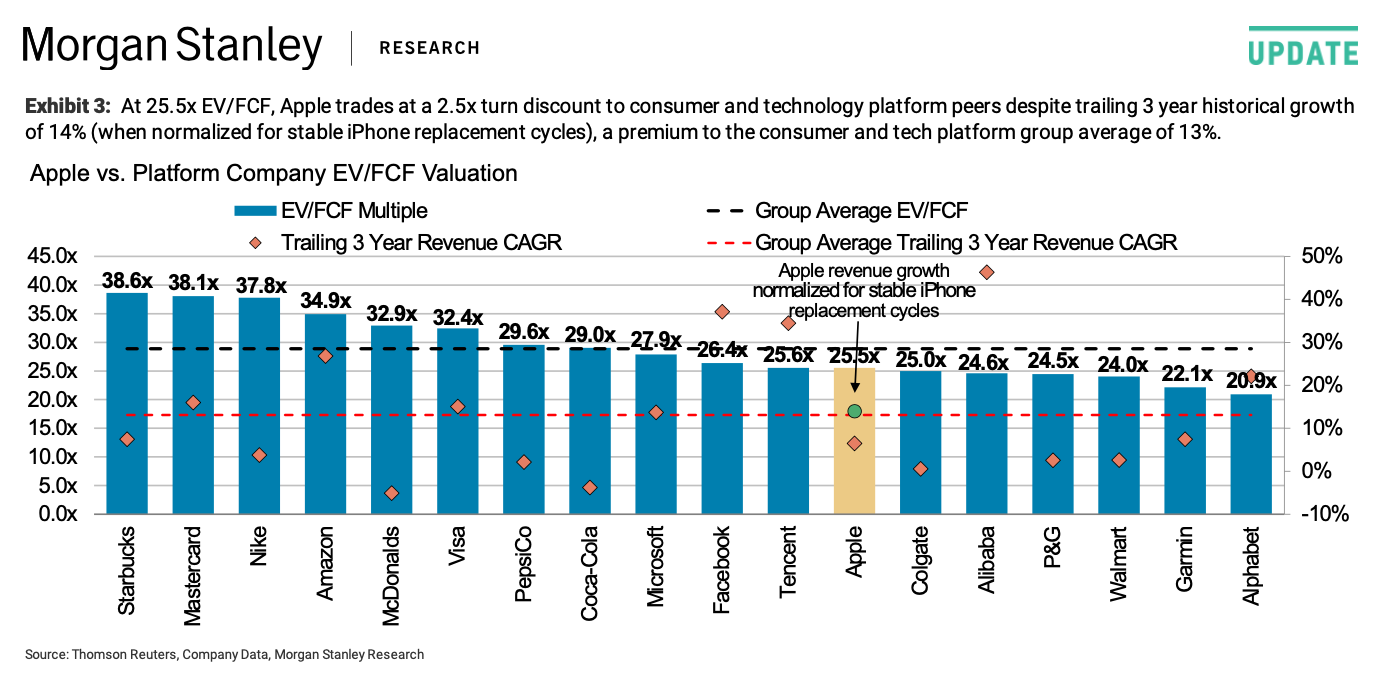 My take: A return to a 3.9-year iPhone replacement cycle would be a big deal.