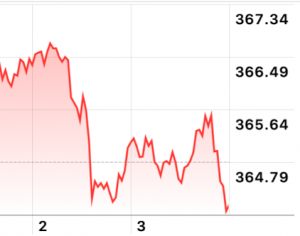 Apple turned red on the news.
From TeletraderNews' "Apple to reclose 30 more US stores amid pandemic":
Apple Inc. announced on Wednesday the company will reclose 30 additional stores across seven federal states in the United States due to the pandemic. Since the coronavirus numbers reignited across the country, Apple has closed its stores in Texas, Florida, and Arizona.
Furthermore, all Apple's stores in Las Vegas and Georgia are also already barred. Overall, the number of shut stores amounts to 77. That means almost 30% of the retails are currently not working, as the tech giant owns 271 stores in the US.
Following the news, Apple's stocks turned red to drop 0.17% and sell for $364.23 per share at 2:37 pm ET. Still, the company fully recovered from the market plunge in March, as its shares gained over 24% since the start of the year.
Below: CNBC's video report…
My take: Apple store closures are the canaries of coronavirus.