Analyst Amit Daryanani sees a path that could take Apple's market cap to $2 trillion by 2024.
From a note to clients that landed on my desktop Sunday:
ALL YOU NEED TO KNOW: A constant question we get on AAPL is – "Hasn't the stock gone up too fast, where can it go from here?". In this DETAILED report we analyze the upside potential for AAPL and think fundamentally they are positioned to become the first two trillion dollar market company (stock gets to $550) over the next 4-years (implying mid-teens stock appreciation annually!). Key levers to get to $2 Trillion market cap scenario are:
FY24 EPS Gets To $23: this implies EPS growth of 14% over next several years driven by combination of operational tailwinds and buyback support.
Services & Wearables Uplift: We expect wearables and services to sustain double digit growth driven by uptick in ARPU and better monetization of the install base.
Gross-margins: We see mix coupled with scale enabling a path towards consistent gross-margin expansion. Services segment operates in the mid 60% GM vs. corporate average in high 30's. Also, in our upside scenario we think product GMs return to FY18 levels.
Multiple Expansion: Upside assumes multiple rerates to ~24x FTM EPS still a healthy discount to the 26-27x average P/E for consumer staple/luxury goods peers).
Net/net: Apple continues to offer the best risk/reward in large-cap tech and long-term investors should use any weakness to add to positions. Maintain Outperform rating but adjusting our target to $360 while our "Upside" target moves to $550 (implying $2 Trillion market cap).We think next 12-months AAPL enjoys a combination of EPS growth + multiple expansion.
Maintains Outperform rating, raises price target to $360 from $345.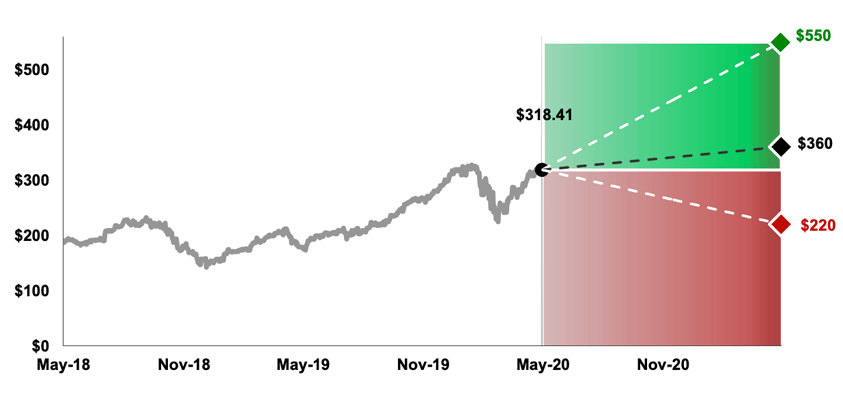 Click to enlarge.
My take: Daryanani's enthusiasm for Apple remains uncurbed.