Death. Contagion. Privacy. Surveillance. Rivalry. Collaboration. Trump. This story had everything.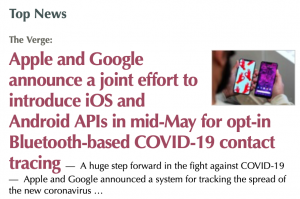 For more than a decade I've made a habit of scanning the headlines on Techmeme several times a day, just to make sure I hadn't missed any big tech news. In all those years, I've never seen anything like this.
On Saturday morning, the day after Apple and Google announced they were collaborating on a COVID-19 contact-tracking system, Techmeme's lead story from The Verge was linked to, by my count,
80 different headlines (From AppleInsider to ZDNet)
91 tweets (@ashk4n to @zypherteachout)
Sidebars on how the contact-tracing framework works and the limits of Bluetooth-based systems yielded another 13 stories and 32 tweets.
A Google search for "Apple Google COVID" turned up 1.82 million hits in 0.51 seconds, for what that's worth.
My take: Overkill.