Analyst Samik Chatterjee takes a "harsher look" at Apple's prospects in the second half of 2020.
From a note to clients that landed on my desktop Wednesday morning:
The new normal of store closures and social distancing has impacted Apple's ability to continue to operate stores, on the same lines as much of retail, which includes Apple's external distribution channel. With customer engagement limited in the wake of store closures and low store traffic leading up to, but more importantly, following store re-openings, we are taking a much harsher look at our C2Q volume expectations, with spillover effects into C3Q.
Following revisions to our near-term iPhone volume forecast in February and March, we are now drastically cutting our C2Q sales estimate, which assumes stores reopen outside of China in mid-May at the earliest as well as a steady ramp in activity to normal sales levels by the end of C3Q. In our model for physical vs. online volumes, we do assume a sharp increase in online volumes, but the increasing substitution of in-person purchases through online channels is unlikely to be enough to offset the headwinds from the absence of physical stores.
In addition to the above headwinds from store closures, we are now also factoring in a modest potential delay in the launch of iPhones typically set for September each year. Although suppliers are yet to see any change in order schedules, we believe there might be a potential delay relative to the testing of new designs, and thus factor in a modest delay of 1-2 months for 2 out of the 4 5G-iPhones expected to launch in September.
Despite the reduction in our earnings estimates and price target, we continue to see Apple well positioned to outperform relative to our coverage universe on the combination of: 1) Investor positioning in high quality companies with strong quality of earnings, cash flow, balance sheet and well protected dividends and buybacks, as highlighted in our March 18 report ("Flight to Quality" Positioning to Lead to ANET, CSCO, AAPL, FFIV, and CIEN); and 2) Expectations of a recovery of the lost 4G-iPhone volumes in 2020 in the form of pent-up demand for 5G-iPhone volumes in 2021.
Maintains Overweight rating, cuts price target to $335 from $350. 
Cue the online/physical store sales chart: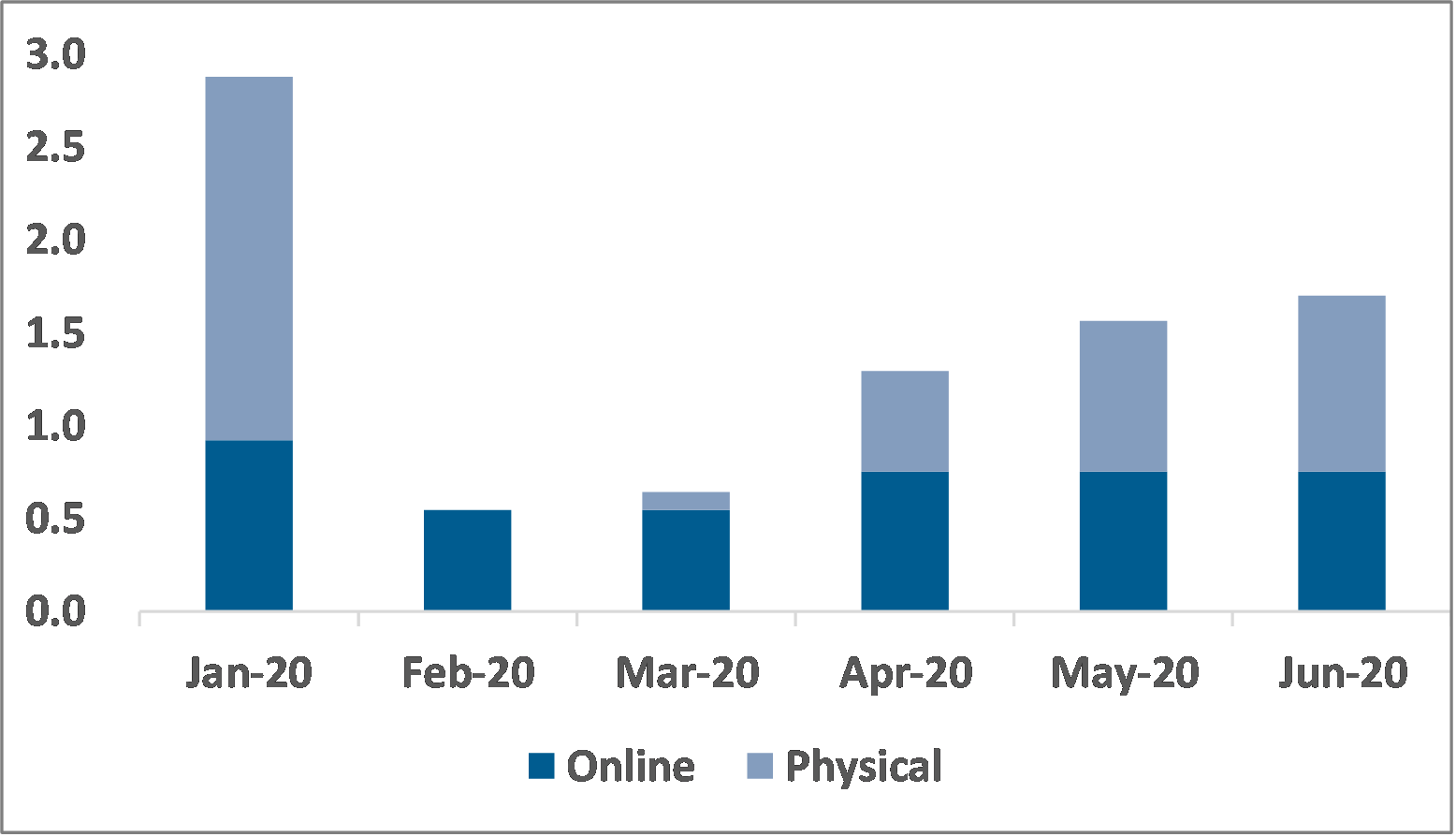 My take: Chatterjee stuck with his January price target longer than most. He reiterated it as recently as March 15.