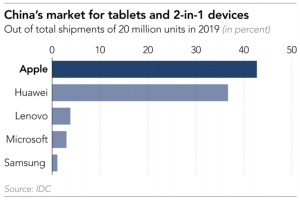 Stocks of Apple's iPad are running low in China as families snap up the tablets to help with e-learning at home in response to coronavirus-related school closures.
The extra demand has come as suppliers across the country are struggling to meet production demands amid labour shortages that are also related to the virus.
Demand had been rising strongly since January when Beijing began insisting on quarantine in response to the coronavirus outbreak, sources have told the Nikkei Asian Review. One source with direct knowledge of the matter said Apple recently ordered a 20% increase in production of the latest version of the iPad for the first half of this year, compared with the production forecast the company gave to its suppliers in January before the outbreak…
To help pupils keep up with their studies, Beijing has encouraged schools to move their courses online, with at least 50 million students now taking classes on Alibaba's telecommunication app DingTalk, for example…
JD.com and T-Mall both show that tablets made by Huawei, the second-largest tablet maker in China after Apple, are still in stock, although T-Mall is limiting purchases to one tablet per person for some models.
My take: This is how Chinese students get ahead in the age of COVID-19.