By this time last year, wait times for the iPhone XS and XS Max had shrunk to 3 days.
From a note to clients by analyst Matthew Cabral that landed on my desktop Monday:
As of Friday (21 days post-launch), wait times for the iPhone Pro/Pro Max remain >1 week in each of the eight geographies we're tracking, and while they've modestly shortened vs. our last update in several markets, this year's launch has now remained supply constrained longer than the XS / XS Max release which reached equilibrium within three weeks (see Figures 7-12 for details on iPhone wait time by model, memory capacity, and color across eight major countries)...
We'd highlight that while wait times are a rough proxy for initial demand, the metric is only one of many variables impacting iPhone sell-through; the availability of supply is a key unknown, particularly for different color / memory options. This year's all-at-once launch timing vs. last year's staggered release schedule could also skew the y/y comparison. In terms of methodology, our data is based on shipping lead times for iPhones purchased directly through Apple's website in several major markets around the world. Note that our data does not capture demand/inventory through Apple's physical retail stores nor their vast distribution channel including carriers and retailers. We plan to refresh this analysis regularly until all newly-launched models reach supply/demand balance; last year, it took three weeks post-launch for the iPhone XS / XS Max to reach equilibrium in all markets tracked and two weeks for the iPhone XR.
Maintains Neutral rating and (underwater) $209 price target. 
Cue the spreadsheets: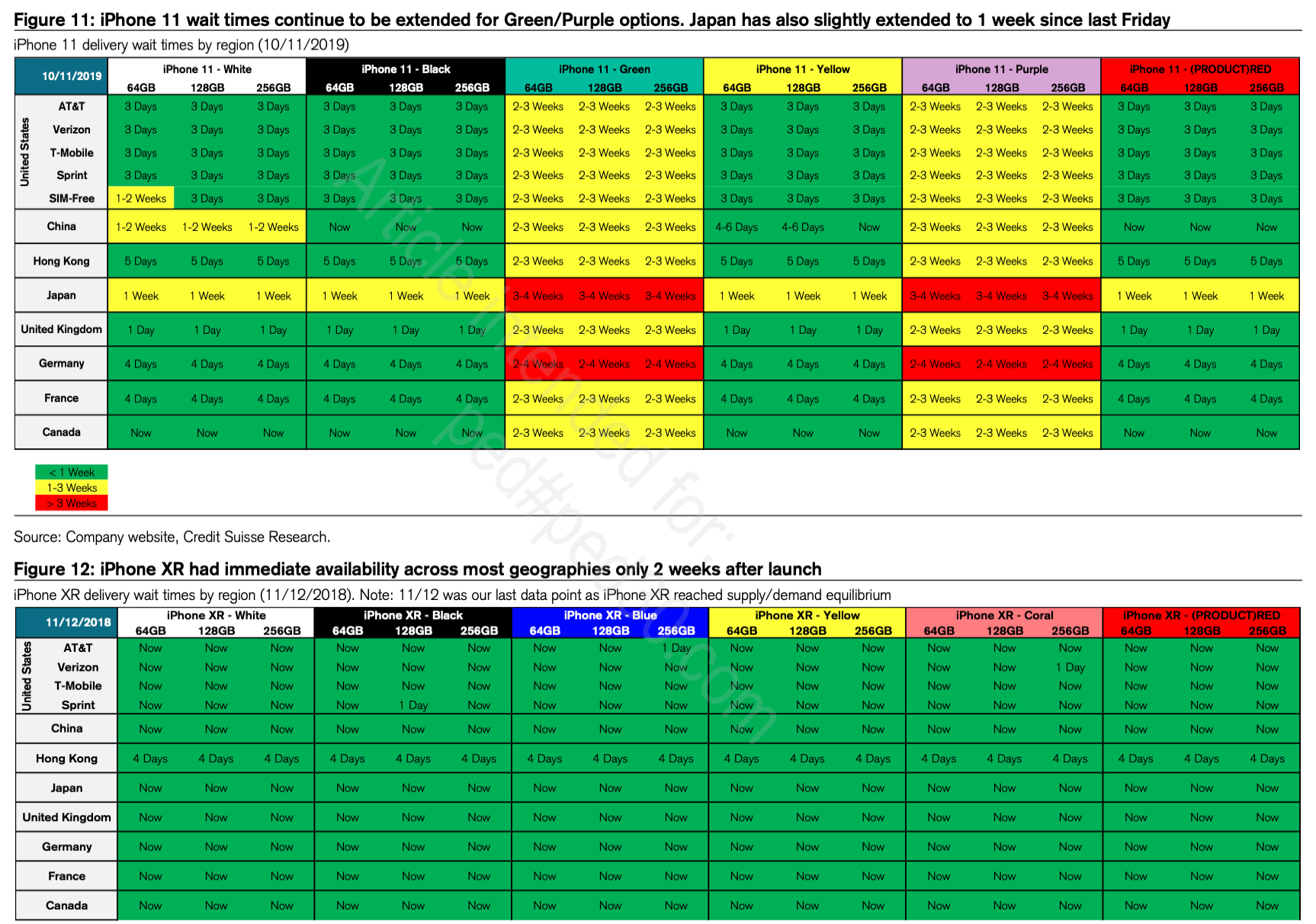 Click to enlarge.
My take: As Cabral points out, the availability of supply is a key unknown. See Toni Sacconaghi's even more bearish take here.