Tim Cook said he would double Services revenue in four years. He did it in three.
From a note posted Wednesday on Asymco.com: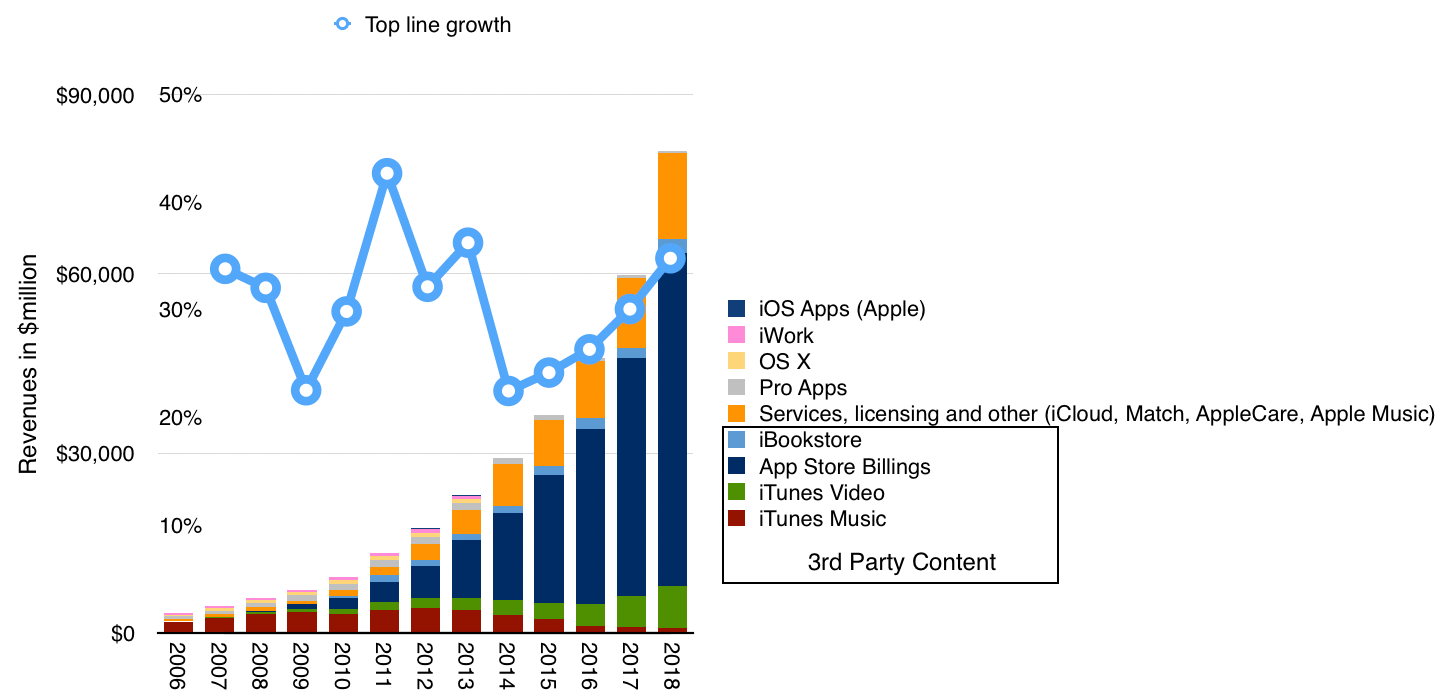 Click to enlarge. 
As my estimates above show, the growth came from apps and licensing and other revenues. Apps include many third-party subscriptions and licensing includes Google TAC [traffic acquisition cost] and other income includes Apple's own subscription services and a few additional items like Apple Pay, AppleCare and iCloud.
What Apple is launching this year will boost this even further with TV+, Card, Arcade and News+. These are a new set of specific services that, apart from Card, will require subscriptions and will deliver Apple-specific content. Unlike previous Music and TV offerings, what Apple has embarked on is a high degree of involvement in the content creation process. These will be Apple TV shows, Apple video games and Apple-directed News feeds.
This is quite the watershed moment. Apple, a company dedicated to providing tools to content makers and content consumers, choosing to be involved in the lottery-like game of choosing and backing winners in creative works...
But let's pause here to think more deeply about what is happening. Without much notice, we are seeing a content world where distributors are locking up talent and creating a studio model where production, talent and distribution and display are under one roof...
Another observation to be made is that the bundling and binding of content into specific distributors creates a walled garden effect. This extends beyond video content to games (a larger business than film, at least at the box office, see below) and to apps. Arcade games are Apple-exclusive. Many apps which depend on Watch, AR and other unique technologies become exclusive, and of course unique titles.
As far as consumers are concerned this might be just fine... A garden is lovely after all. The walls are there to keep danger and chaos away as much as to keep you in it. The constraints simplify as much as they restrict. Though it may be contrary to some modular and interoperable utopias which paralyze with choice, we might well be experiencing a triumph of the walled garden.
My take: A fresh Dediu post is always worth the visit. Come for the charts and insights, stay for the comment stream.
Click to enlarge.