No new tariffs equals a relief for the Street, says analyst Daniel Ives.
From a note to clients that landed on my desktop Monday: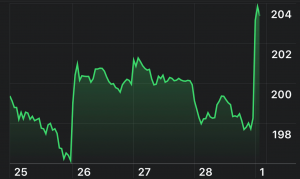 All the mathematical gymnastics and doomsday predictors over the last few months has convinced the Street that at least roughly ~$2.00 of EPS in FY2020/FY2021 would vanish from the Apple story given the increased tariffs/costs on the horizon with the company's flagship iPhone Foxconn facility at the centerpiece of the debate...
From a scenario perspective, we believe a resolution to the China tariff situation could add between $20-$25 per share to Apple's stock over the coming months in our opinion, as this would take away the dark cloud currently shadowing the stock.
While many on the Street still need to see what FY3Q (June) results look like specifically out of the China region with many yelling fire in a crowded theater, we believe this weekend's developments out of the G20 starts to remove the albatross around Cook's neck which remains the China trade war situation.
Taking a step back, there is still more wood to chop ahead for Apple and Cook around seeing a rebound in iPhone demand globally and continued strength in its services business which we believe is key to the overall valuation, however we are incrementally more positive on the stock following developments from the G20 meeting on the tariff front.
Maintains Outperform rating and $235 price target.
My question: Why is there an albatross in a crowded theater when there is still wood to chop?