From a note by analyst Samik Chatterjee that landed on my desktop Thursday:
iPhone Supplier Tracker: Aggregate revenues return to growth in the month of March, supporting recent anecdotal evidence of bottoming out of headwinds. Month-over-month, aggregate revenues rose by +34% in March, following four months of sequential declines (-34% in February, -24% in January, ‑5% in December and -3% in November), and compares to a +21% increase seen historically going from the month of February to March. On a year-over-year basis, aggregate revenue rose by +8% y/y in March, demonstrating encouraging signs relative to the -4% y/y decline in February and +2% y/y increase in January. We believe the above supplier revenue trends are starting to point to a likely bottoming out of iPhone revenue headwinds, on the lines of anecdotal evidence we are receiving through our recent discussions with supply chain companies.
iPhone Supplier Tracker: Aggregate revenues decelerate in C1Q19; points to continued iPhone revenue decline in C2Q19, albeit to a lesser degree. On a quarterly basis, aggregate revenues decelerated to +2% y/y in C1Q19 from +7% in C4Q18. The strong historical correlation between our iPhone Supplier Tracker and iPhone revenue growth (see Figure 3) leads us to conclude that the deceleration in supplier revenue growth points to continued iPhone revenue declines in C2Q19, albeit to a lesser degree given the trends discussed above.
Maintains Overweight rating and $228 price target. 
Below: Monthly iPhone Supplier Tracker — Average year over year change.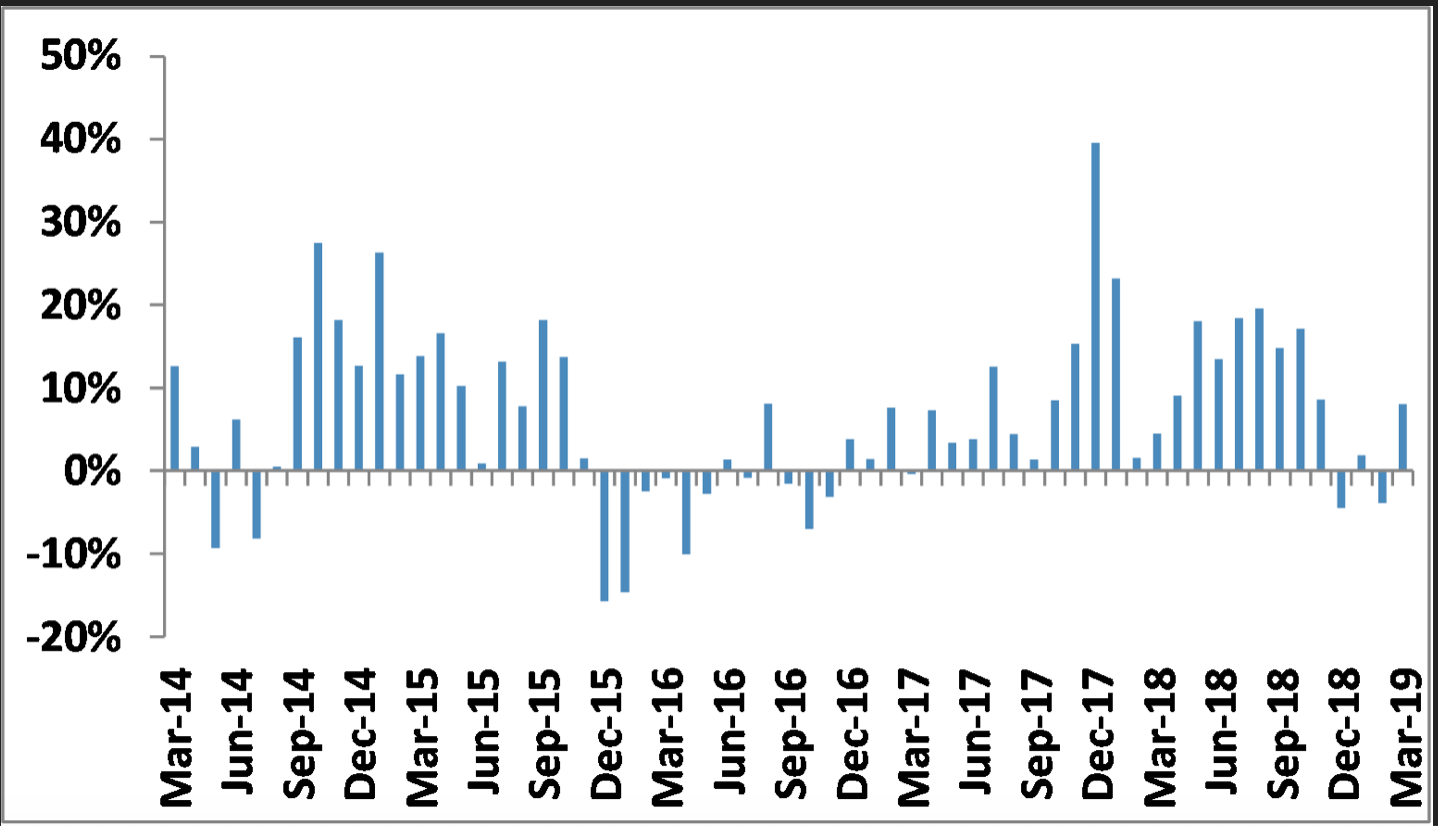 Methodology:
Our monthly tracker aggregates revenue from the most relevant Taiwanese Suppliers with meaningful exposure to Apple, such as Catcher, Genius, Hon Hai, Largan, Pegatron, TPK, Win Semi and Wistron.
My take: Sounds like backlog in the supply chain has cleared and the factories are humming again. But not like they used to.