These write-ups caught my eye. More as they come in.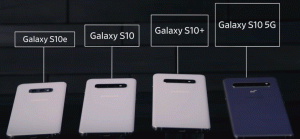 Lauren Goode, Wired: Samsung's big, flashy smartphone future. Samsung's just-announced Galaxy S10 flagship phone is, inarguably, the most innovative phone Samsung has ever produced. Forget scanning your eyeballs—that sensor is gone, replaced by an ultrasonic fingerprint sensor within the Galaxy S10's display. Forget Wi-Fi 5; this new phone supports Wi-Fi 6, also known as 802.11ax. Forget the wide cutout for sensors at the top of the display. Forget that ugly thing ever existed! This is a hole-punched display, and it does look better, even if it has been graced with the unfortunate name "Infinity O." Your smartphone camera, the one you're using right now? It's probably not as good as this one.
Joanna Stern, Wall Street Journal. More Phones, More Cameras, More Money. Samsung Electronics ' newest Galaxy S10 lineup, announced Wednesday and shipping March 8, checks all the boxes on the Modern Smartphone Release list. They're great phones, better than your current great phone, with prices that aim to keep the South Korean giant's mobile business rolling… But is there a giant leap here, like the Galaxy S4, with its bigger AMOLED screen and point-and-shoot rivaling camera, or the water-resistant Galaxy S5? Nope and nope. The big leap is coming: Samsung is launching its folding phone, the Galaxy Fold, on April 26, but that's focused solely on early adopters—with an early-adopter price tag of $1,980.
Lance Ulanoff, Medium: Boldly goes where Apple won't. Samsung's new S10 handsets are all gorgeous, sleek, and roughly the same size as their predecessors. They also include a handful of innovations and feature choices that instantly set the new phones apart. There's the aforementioned ability to share power directly with other Qi-based devices — officially dubbed Wireless PowerShare — a fingerprint reader that's completely hidden under the screen, holes punched directly through the display to accommodate a selfie camera, and, yes, even 3.5 mm headphone jacks.
Cherylynn Low, Engadget: Everything that was leaked, and not much more. It's been ten whole generations of Galaxy S, and boy, have we come far. Samsung's flagship phone series has planted the company firmly in our minds as one of the — if not the — best Android device maker… But the Galaxy S10 doesn't feel like a monumental shift the way the iPhone X did. It's not a reimagination of what an entire lineup of flagships should look like. In many ways, it's Samsung playing catch-up to its Chinese rivals.
Dieter Bohn, The Verge: The Samsung Galaxy S10E is small without skimping too much. After spending 10 minutes or so playing around with the S10E ($749.99), I could tell that I would be perfectly happy without the extra camera lens, curved display, or extra pixels on the screen you'd get from the more expensive versions of the S10… I could tell I wouldn't miss all that stuff because the main thing I noticed about the S10E was how nice the size is. It feels like a phone, not like a surfboard. People who want a "small" phone will probably balk at the idea that the S10E is small — it's only a millimeter shorter and narrower than the iPhone XS, after all. But compared to the ever increasing size of many flagship Android phones, it's night and day.
If you only have time for one video, I recommend Joanna Stern's:
My take: In the high-end smartphone business, everybody is innovating as fast they can, trying to sustain their position in a rapidly saturating market.