The Street's estimate was higher. But who's counting?
From "iPhone US Installed Base Ticks Up Slightly," released Thursday by Consumer Intelligence Research Partners:
CIRP analysis indicates the iPhone US installed base reached 189 million units as of December 30, 2018, compared to 185 million units at the end of the September 2018 quarter and 166 million units at the end of the December 2017 quarter (Chart 1). CIRP bases this estimate on an estimated global sales of 62 million iPhones, which is in turn derived from an estimated Average Selling Price (ASP) of $839 and Apple, Inc. disclosed iPhone revenues.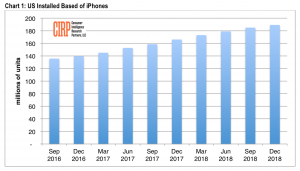 "As Apple noted, to the frustration of investors and other observers, it no longer discloses iPhone unit sales," said Mike Levin, Partner and Co-Founder of CIRP. "Consequently, we use our weighted average retail price for the US, called US-WARP, as a close approximation of ASP. Based on an estimated ASP of $839, and Apple's disclosed iPhone revenues of about $52 billion, we estimate Apple sold approximately 62 million iPhones, of all models and storage capacities, globally in the quarter. We then translate this estimate of global unit sales into our estimate of US unit sales and its implications for the US installed base.
METHODOLOGY:  CIRP bases its findings on its survey of 500 US Apple customers, surveyed from December 31, 2018 – January 10, 2019 that purchased an iPhone, iPad, or Mac in the US in October-December 2018 period.
My take: I don't care about iPhone unit sales. Not anymore. But if I did, I would point out that CIRP's 62 million is a few million shy of the Street's consensus of 65 million, per Visible Alpha.