Why not make some new ones, and see how fast those sell out?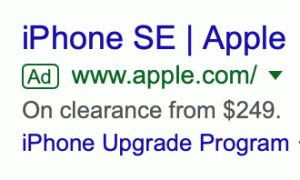 Sixteen hours after Apple began blasting ads for a clearance sale of 2016-era iPhones—at discounts of $100 to $150 each—the phones were still available in quantity for three-day delivery.
I'll be curious how long it takes for the shelves to clear. The SE, first introduced in March 2016, was the iPhone XR of its day—a year-old model with souped-up internals.
There is no shortage of armchair CEOs telling Tim Cook that a $250 iPhone is just what Apple needs to cure what ails it in the developing world.
This could be a test of that theory. We're lacking some basic facts about the clearance sale, of course. Like where, how many, or even (so far) when the supply runs out.
It hadn't by Sunday morning. Maybe I shouldn't be surprised. But if Apple next week is still trying to unload its inventory of three-year old iPhones, we'll have learned something about the great untapped market for cheap iOS devices.
UPDATE: An hour later, the ad is still there but the product seems to have disappeared. So much for that.