From a note to clients by supply chain analysts Karl Ackerman and Matthew Ramsey that landed on my desktop Monday:
2018 iPhone Update: We believe the following 6 points to be true and largely unchanged from our last update.
Panel Shipments – Despite some noise this month on panel order shipments (e.g., panel cutting issues from JDI that have caused them to lower their shipment forecast; backlight module light leakage from Minebea; some assembly issues at Pegatron), we do not see a downward revision to the LCD model. We continue to expect the LCD version should garner half of this year's iPhone units...
Baseband/RF – Intel has won the baseband socket with its 14nm SoC fabbed in-house for the newest iPhones; Intel's previous basebands were made on TSMC's 28nm process. We believe recent 14nm CPU shortages now seen across the industry could potentially linger into 2Q19 and affect demand for other components shipped into these systems whose volumes are now gated by Intel supply.
Yield Expectations/Timing Nuances – We believe the production gap between the OLED and LCD models is now at parity, despite the XR model being delayed by one month.
A12 SoC - Our field work indicates the A12 is made on TSMC's 7nm InFO process, which has now reached volume production (we estimate 50k/mo).
Memory Allocation – NAND flash content is 64GB/256GB/512GB on this year's iPhones, up 75% gen-to-gen. We believe current NAND allocation on the iPhone is the following: Samsung 0-5%; Toshiba 28-33%; MU 10-15%; WDC (SanDisk) 20-25%; SK Hynix 28-33%.
EMS Allocation – We believe Foxconn will remain the dominant supplier for the OLED models while Pegatron receives the LCD model. At this time, we do not forecast Wistron has any allocation.
Below: Expected iPhone supply by model for the December quarter, as seen by Cowan.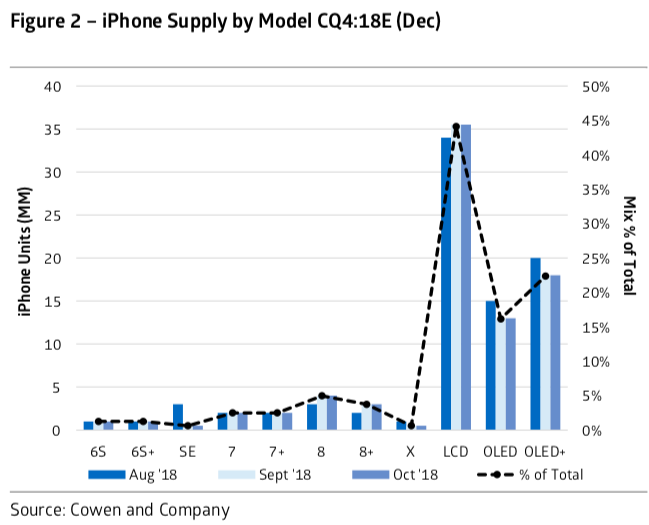 My take: Timothy Arcuri, who used to cover Apple for Cowan, has moved to UBS, where he gives the stock a Buy rating and a $250 price target.