Slower than last year's 34%*, say the analysts, but still quite smartly.
Why do we give a hoot about Apple's Services, that grab bag of cash-generating operations that includes, according to a self-referential footnote in Apple's quarterly reports, "revenue from Digital Content and Services, AppleCare, Apple Pay, licensing and other services"?
We give a hoot because this once sluggish cash stream has swelled to become Apple's second biggest source of revenue after the iPhone—bigger than the iPad or Mac—and one of its fastest growing.
How fast did Services grow last quarter? The 20 analysts I've heard from so far—10 pros and 10 independents—turned in estimates ranging from $9.5 billion to $12.8 billion (up 12% to 50%, respectively). Average increase: 21.23%.
To see how that compares with previous quarters, click on "Year over year growth" in the chart below. Don't see the interactive chart? Try here.

Below: The analysts' individual estimates, pros in blue, indies in green: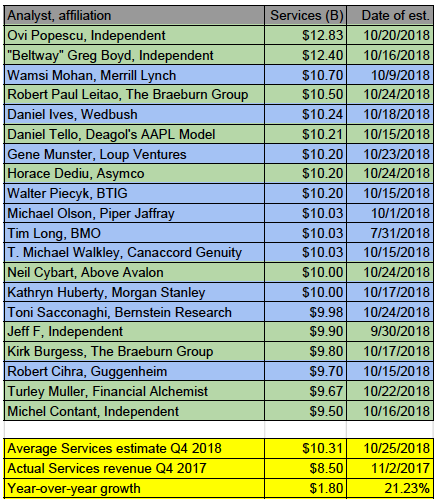 Click to enlarge.
We'll find out who was closest to the mark at about 4:30 p.m. Eastern next Thursday. Nov. 1, when Apple is scheduled report its earnings for the fourth quarter of fiscal 2018. The conference call with analysts begins at 5 pm. I'll be listening in. You can too. Tune in here.
*As two friends-of-the-blog remind me in the comment stream, last year's 34% year-over-year revenue growth included a one-time $640 million windfall, probably from Google. Take that out and Services growth for Sept. 2017 quarter was actually 24% YOY. I'm leaving the chart as it was because, well, if you take the windfall out, where do you put it?