Think today's 4.63% loss was bad? Let's take the time machine back to the fall of 2000.
From Dividend.com's Apple's Worst Day Ever:
On September 29th, 2000, AAPL saw a massive one-day drop of 51.89%. The stock's steep decline was due to a number of factors, which in hindsight combined to form a perfect storm of headwinds that proved too fierce for shareholders to deal with at the time. First and foremost, shares of Apple were fairly flat YTD at that point, following a meteoric rise of 151% the year prior in 1999; this in turn set the stage for a potentially nasty sell-off for the stock in light of it stellar gains up to that point.
Second, the company issued an early warning on Thursday, September 28th, 2000, after the closing bell, stating that its fourth quarter results would come in substantially below expectations. In retrospect, the stock's stellar run-up leading to that day, and the early earnings warning sign combined to create a laundry list of reasons for shareholders to ditch the company and take profits.
As the trading bell rang on the morning of the 29th, investors fearfully jumped ship and shares of Apple dropped below $13 a share after closing at $26.75 the prior day, effectively slashing its market cap in half overnight.
Cue the chart: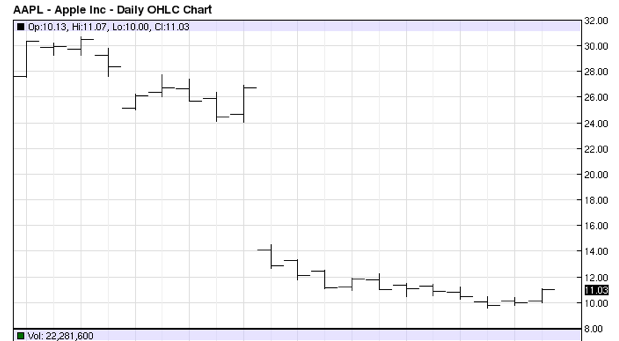 My take: The best part…
Steve Fortuna, an analyst with Merrill Lynch at the time, responded to Apple's slump by downgrading the stock to "Neutral" from "Accumulate," claiming the problems Apple was facing were 'just the beginning'. He went on to say, "We believe there is a high likelihood that investors will overreact to this news and take down the PC names in sympathy. We would particularly view this as a buying opportunity for Gateway, and to a lesser extent, Compaq and Dell."
Let's review how that worked out. Compaq was acquired by HP in 2002 for $25 billion. Gateway was acquired by Acer in 2007 for $710 million. Dell raised $25 billion in 2013 to take itself private.
Apple, meanwhile, has gained 11,570% since Sept. 29, 2000, according to YCharts, and as everyone knows is now worth more than $1 trillion.