Pretty darn sticky and getting more so, according to a survey of 91,000 smartphone owners in the U.S., U.K, China and India.
Three charts from a note to clients by Wamsi Mohan that landed on my desktop Tuesday:
iPhone owners display stickiness with the next upgrade: 70% of current iPhone owners noted they intend to buy an iPhone with their next upgrade, slightly higher than the 69% cumulative result from the March-July data in the latest iteration of this report. Apple stickiness remains dominant, significantly above key competitors Samsung (stable at 53%), Huawei (53% from 54%), and Xiaomi (stable at 37%).

Click to enlarge. 
Survey implies iPhone interest rising: Interest in upgrading to an iPhone is rising, with interest peaking in September following the announcement of the new iPhone Xs, Xs Max, and Xr. The most recent data available suggests 33% of all survey respondents intend on purchasing an iPhone the next time they upgrade, compared with Samsung, the second highest, at 15% (see chart 2).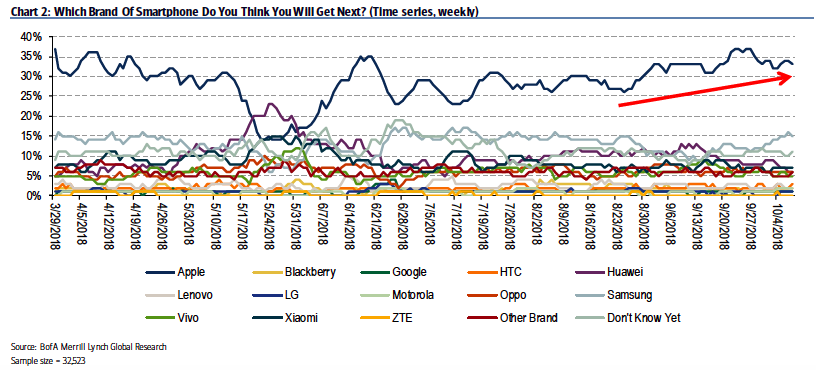 Material room for growth in emerging markets: Our survey points to a significant opportunity for growth in both China and India. Although the upgrade intentions remain strong in India, the replacement is skewed toward lower end phones. 33% of respondents in India intend to upgrade in 2018 vs. 21% in China and the US, and 19% in the UK. In our view, Apple continues to have strong potential in China and India over the long term.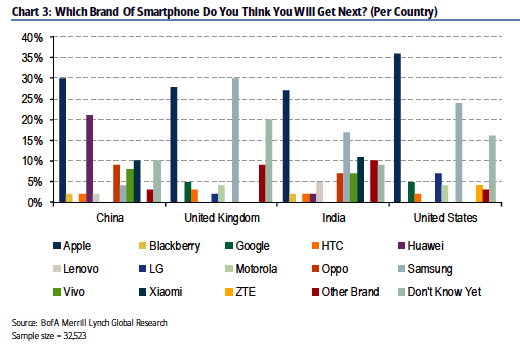 Maintains Buy rating and $256 price target.
My take: No huge surprises here, but it's rare to have analysts' opinions backed up by so much data. Mohan says Bank of American/Merrill Lynch gathered an average of 490 responses per day. This is where national banks have an edge over boutique investment firms.