The ups and downs of Apple's revenue, earnings, iPhone sales, services and revenue from greater China.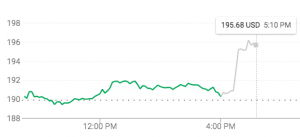 June may be the sleepiest quarter of Apple's fiscal year, but Tim Cook and Luca Maestri managed to wake up Wall Street Tuesday evening with big percentage increases on both its top and bottom lines.
From the press release:
The Company posted quarterly revenue of $53.3 billion, an increase of 17 percent from the year-ago quarter, and quarterly earnings per diluted share of $2.34, up 40 percent. International sales accounted for 60 percent of the quarter's revenue.
"We're thrilled to report Apple's best June quarter ever, and our fourth consecutive quarter of double-digit revenue growth," said Tim Cook, Apple's CEO. "Our Q3 results were driven by continued strong sales of iPhone, Services and Wearables, and we are very excited about the products and services in our pipeline."
"Our strong business performance drove revenue growth in each of our geographic segments, net income of $11.5 billion, and operating cash flow of $14.5 billion," said Luca Maestri, Apple's CFO. "We returned almost $25 billion to investors through our capital return program during the quarter, including $20 billion in share repurchases."
The stock, which closed at $190.29, immediately jumped more than $7.20 (3.75%) in after hours trading.
The year-over-year percentage increases in the charts below tell the story:
Revenues up 17%
EPS up 40%
Services up 31%
China revenue up 19%
iPhone sales, with only 1% growth year over year,  might have been the skunk at the party. But nobody cared because iPhone revenue was up 20%.
Below: The five charts. Click the second column to see year-over-year growth. (Not seeing the charts? Try the website.)
Links: