From a note to clients by Wells Fargo's Aaron Rakers that landed in my inbox Wednesday:
IDC has published its preliminary estimates for PC shipments in 1Q18 (sell-in), reporting shipments flat yr/yr, above our estimate of a 1.5% yr/yr decline, and down 13% sequentially. Gartner  also published an estimate that PC shipments were down 1.4% yr/yr in 1q18 (sell-thru)...
[According to IDC] Apple's worldwide Mac sales were 4 million in the March quarter, down 21.9% from the prior quarter and declining 4.8% yr/yr. Apple had a 6.6% market share in 1Q18 compared to a 7% market share a year ago. This compares to our 3.987 million total Mac estimate in F2Q18. This quarter marked Apple's lowest ship share since 2Q14. We believe that Apple continues to face strong competition from other premium PC providers such as HP Inc.
Below: IDC's and Gartner's spreadsheet and two Wells Fargo's charts. Click to enlarge.
ICD:
Gartner: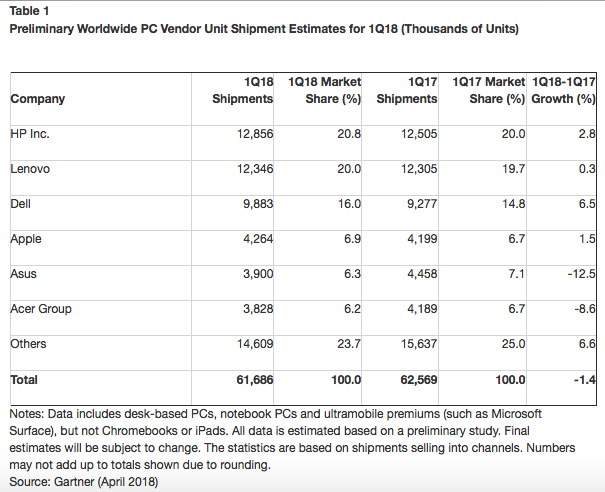 Wells Fargo: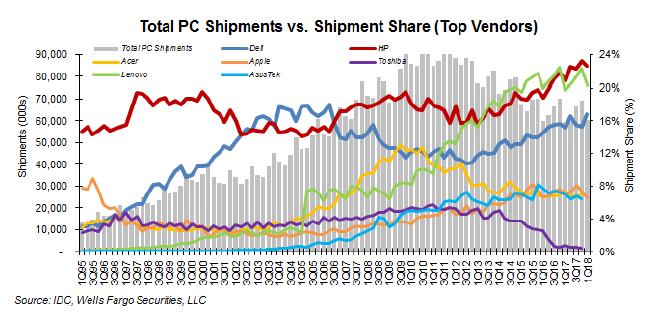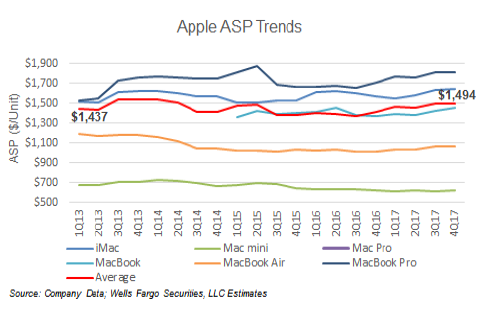 Click to enlarge.
My take: True to form, Apple is willing to lose market share to keep its average selling price constant or growing.
UPDATE: Gartner added some color on China PC sales.
"The major contributor to the decline came from China, where unit shipments declined 5.7 percent year over year," said Mikako Kitagawa, principal analyst at Gartner. "This was driven by China's business market, where some state-owned and large enterprises postponed new purchases or upgrades, awaiting new policies and officials' reassignments after the session of the National People's Congress in early March."