Apple Watch shipments grew 57% year over year, according to IDC.
From Global Wearables Market Grows 7.7% in 4Q17 and 10.3% in 2017 as Apple Seizes the Leader Position, Says IDC:
"The 10.3% year-over-year growth in 2017 is a marked decline from the 27.3% growth we saw in 2016," said Ramon T. Llamas, research director for IDC's Wearables team. "The slowdown is not due to a lack of interest – far from it. Instead, we saw numerous vendors, relying on older models, exit the market altogether. At the same time, the remaining vendors – including multiple start-ups – have not only replaced them, but with devices, features, and services that have helped make wearables more integral in people's lives. Going forward, the next generation of wearables will make the ones we saw as recently as 2016 look quaint."
Apple, meanwhile, suddenly finds itself atop the wearables market. "Interest in smartwatches continues to grow and Apple is well-positioned to capture demand," added Llamas. "User tastes have become more sophisticated over the past several quarters and Apple pounced on the demand for cellular connectivity and streaming multimedia. What will bear close observation is how Apple will iterate upon these and how the competition chooses to keep pace."
Below: IDC's spreadsheet. Note its Apple Watch estimate of 57% growth year over year.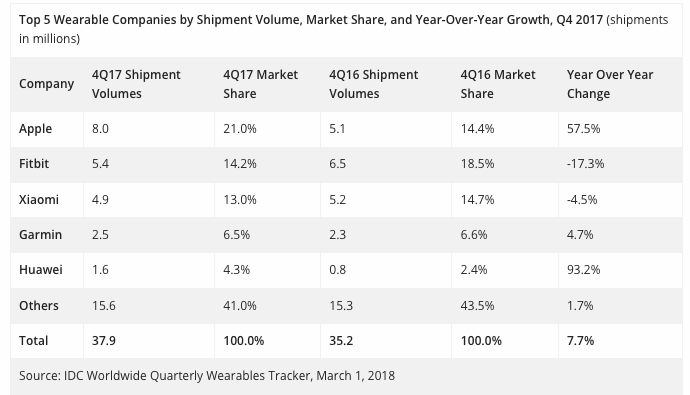 Click to enlarge. 
My take: For years the Apple Watch was an industry joke. Who's laughing now?