Wall Street's expectations for Apple's June quarter keep falling. How low can they go?
From Apple: Looking Beyond Analyst Worries by Bill Mauer:
In my time covering Apple on this site, there is one phrase I've used repeatedly: There are three things that are certain in life: death, taxes, and Apple analysts starting to panic before earnings…
If analysts lower their estimates enough, there comes a point at which Apple's guidance can't miss. I don't know if we are there yet, just because I don't know if we'll see any more product launches in the coming weeks and months. At the moment I would think guidance for the June quarter could miss estimates, but that stance might change before earnings if the street keeps cutting their forecasts.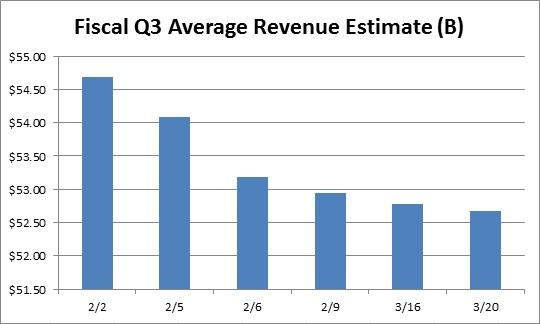 Data from Yahoo Finance. Click to enlarge.
My take: Good on Mauer for tracking this stuff. He's a star on Seeking Alpha, where he's managed to make a living, he tells me, writing pretty much full time. According to his LinkedIn profile he's posted more than 1,500 articles over the past seven years—80 of them Editor's Picks.