From a note to clients by Cowan semiconductor analyst Karl Ackerman that landed in my inbox Wednesday:
The AAPL supply chain trade had a challenging set up from an operational perspective this past earnings season, as we expected, with companies providing below-consensus MarQ guides on demand challenges from the iPhone X. Our field work in Asia last week entering the Chinese New Year indicates builds for CQ1 [Apple's fiscal Q2] are now 52.5MM, down from our prior below-consensus view of 56MM 30 days ago. The key variable from this month vs. our last update, unsurprisingly, is lower build expectations for the iPhone X which now stand at 21MM units (vs. 28.5MM)...
Demand momentum going into CQ2 doesn't appear to be rebounding, either, with our field work signaling a preliminary view of CQ2 procurement for ~44MM units, up 3% Y/Y. This number is inclusive of 13-16MM units for the iPhone X (down from the original plan of 30MM units in Oct/Nov '17). While unit procurement numbers are underwhelming overall, and not indicative of a "super-cycle," these units appear to support current consensus expectations for the RF suppliers AVGO, SWKS and QRVO. [emphasis his]
Our field work continues to support a feature-rich three-model launch, all having Face ID and expected to launch in CQ3:18 (consistent with prior launch times). While it is still a little early, overall units for the three new models combined look to be ~175-205MM units, in line w/ the ~193MM for the iPhone 7/7+ and projected 186MM for the 8/8+/X. Of this total, our field work has noticed a shift in procurement plans toward the lower-priced 6" TFT- LCD model, now planned from 55-60MM units to 75-85MM units.
My take: Dovetails, perhaps unsurprisingly, with what we've been hearing from KGI's Ming-Chi Kuo.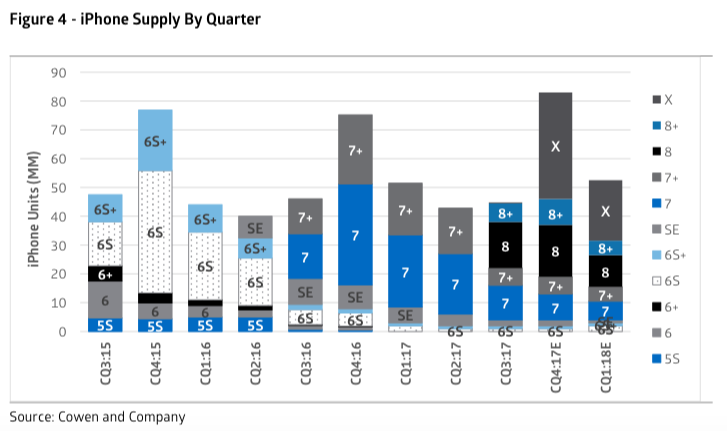 Note: Cowan does investment work for Broadcom (AVGO).