REVISED VERSION: The pros and the independents find some middle ground.
It turned out there was signal in the noise coming from the iPhone supply chain, and analysts who ignored it—Wall Street pros and independents alike—did so at their peril. A couple of congenitally bullish indies took it on the chin. Without further ado (and more accurately this time, I hope):
An tip of the hat to Guggenheim's Robert Cihra, who nailed EPS to the penny, and to Mizuho's Abhey Lamba, whose iPhone unit sales estimate was only off by 0.4%.
A wag of the finger at Above Avalon's Neil Cybart who posted some way-above-guidance numbers and paid the price. His post-mortem Monday should make interesting reading.
A bit of both to Asymco's Horace Dediu, who swung and missed at a way too-high iPhone unit sales number but managed to hit Apple's revenue out of the park. I want to read his post-mortem too.
Below: The full list of analysts, sorted by the top-and-bottom lines, with the pros in blue and the amateurs in green.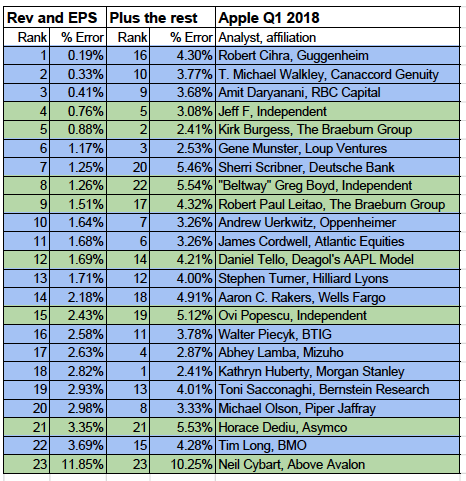 Click to enlarge.
Finally, a color-coded spreadsheet that shows, in each category, best and second-best estimates (in bright and dull green) and worst and second-worst (in bright red and pink). Corrections appreciated. Really.
Click to enlarge.
CORRECTION: An earlier version had the wrong number for EPS, which screwed everything up. Apologies.
Support ad-free independent business journalism on the internet. Subscribe to Apple 3.0.