Apple's primary contractor assembled a ton of top-of-the-line iPhones last quarter.
From Thursday's South China Post:
Foxconn Technology Group, the world's largest contract manufacturer of consumer electronics, posted 50 per cent year-on-year growth in December revenue mainly from iPhone X sales, the company said in a filing to the Taiwan stock exchange on Thursday.
Here's what that looks like (via Mark Hibben in Reasons for optimism going into earnings):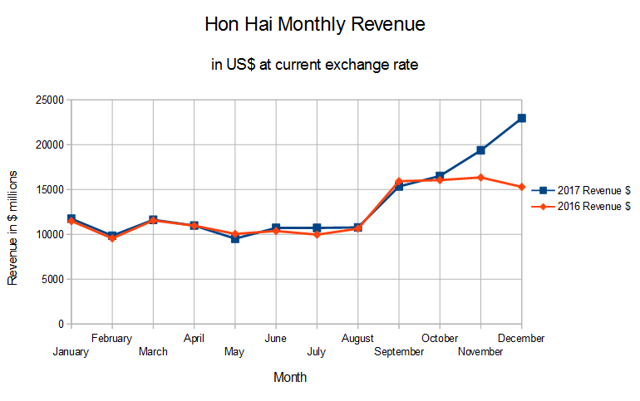 My take: I'm surprised this news isn't getting more attention, given the prevailing narrative (e.g. WSJ: "weaker-than-expected demand for the pricey handset.") Did Foxconn overproduce in December, making too many iPhone Xs too fast? Something to ask Tim Cook at the earnings call this afternoon. Tune in here at 5 p.m. Eastern.
See also: Who ya going to believe, Nikkei Asian Review or your lying eyes?