Unit sales may matter less to Apple this time around than the average selling price of the iPhones its customers were buying.
I'm kicking myself today. I can share the iPhone unit sales estimates I've collected from 18 Apple analysts — 11 Wall Street professionals and 7 independents — but not their estimated average selling price (ASP).
Here's what I can say: Their unit numbers so far range from 75 million to 86.5 million, which is quite a range. The average is 81.35 million units, up 3.9% from the same quarter last year.
Here's what that looks like:
(Click here if you can't see the interactive chart).
Not shown, because I didn't ask for it, are everybody's iPhone revenue estimates, which would have shown year-over-year growth considerably better than single digits. Take, for example, Neil Cybart's analysis from his Above Avalon post Tuesday:
I am expecting Apple to report monster iPhone results next week. Here are my 1Q18 estimates:
Unit Sales: 82M (up 5% year-over-year)
ASP: $826 (vs. $695 in 1Q17)
Revenue: $67.7B (vs. $54.4B in 1Q17)
Cybart's commentary:
At first, that 5% unit sales growth estimate may not seem impressive, especially considering all of the focus this quarter on iPhone X. However, when combined with the iPhone's largest sequential jump in average selling price (ASP), I'm expecting Apple to report a very strong 25% year-over-year increase in iPhone revenue. This would be the strongest quarterly iPhone revenue growth in two years. Selling tens of millions of a $1,000+ iPhone brings in A LOT of revenue.
Below: The individual analysts estimates, pros in blue, indies in green.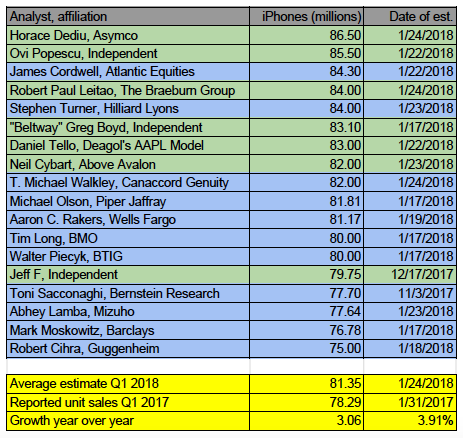 Click to enlarge.
We'll find out who was closest to the mark next Thursday (Feb. 1) when Apple reports its earnings for fiscal Q1 2018. I'll be tuning in. You can too. Click here.