Among U.S. iPhone buyers last quarter 20% upgraded from Android phones.
From Tuesday's Consumer Intelligence Research Partners press release:
"The good news for Apple is that relative to earlier quarters, they attracted a higher percentage of iPhone buyers from Android phones," said CIRP co-founder Josh Lowitz. "In the past three quarters before the June 2017 quarter, Android owners had represented 14% to 17% of iPhone buyers. With lengthening upgrade cycles and a growing percentage of owners with the most recently released models, continued platform switching will be important to the success of the next iPhones."
Only last week CIRP was telling us that Android gained last quarter at Apple's expense. I wouldn't be surprised if Android always gains at Apple's expense in the June quarter. What today's report suggests is that this time, Android gained less that usual.
The release led with the chart below, which shows the iPhone 7 and 7S capturing a combined 81% of U.S. sales last quarter, up from 66% in fiscal Q2.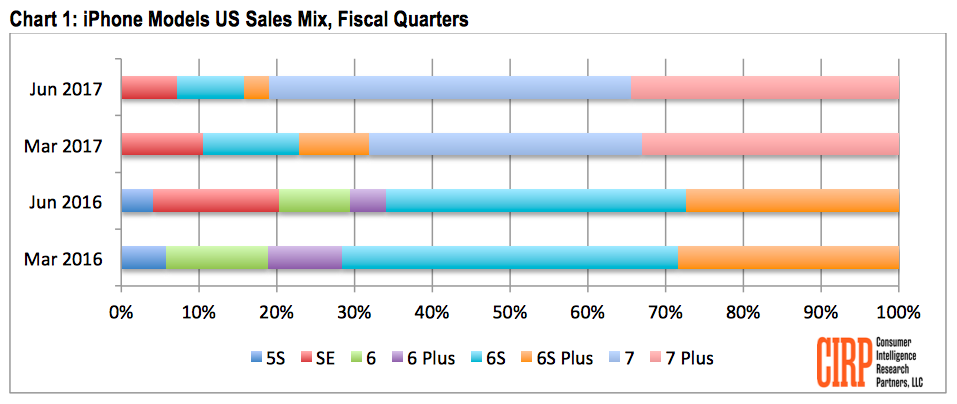 Click to enlarge.
"The newest iPhone models, 7 and 7 Plus, accounted for a much higher share of total iPhone sales in this quarter than the March 2017 quarter," said Lowitz. "Along with the trend toward sales of larger storage capacity models, this will help increase the average selling price for iPhones."
See also: How Samsung, Apple and LG carve up the U.S. market