For the second quarter in a row, independent analysts took 6 out of 10 top spots.
In a mixed bag of second-quarter results—in which Apple beat some expectations and missed others—none of my analysts covered themselves in glory. The indies (green in the spreadsheet above) did beat the pros, but not by that much. Still...
A tip of the hat to:
Above Avalon's Neil Cybart who capped a year of excellent independent Apple analysis by nailing Apple's $2.10 EPS to the penny and scoring first in the top-and-bottom line.
A wag of the finger to:
Loup Venture's Gene Munster who, freed from the shackles of Piper Jaffray, overshot Apple's iPhone sales by 4 million units and its revenue by $2.1 billion.
Below: The full list of analysts, sorted by the top-and-bottom line, with the pros in blue and the amateurs in green. Corrections appreciated.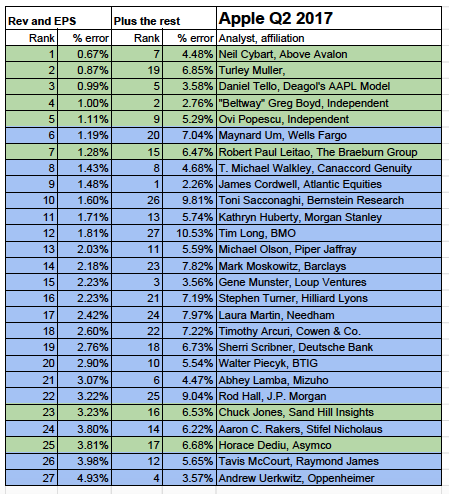 Click to enlarge. Not seeing the graphic? Try the website. 
Finally, a color-coded spreadsheet that shows, in each category, best and second-best estimates (in bright and light green) and worst and second-worst (in bright red and pink).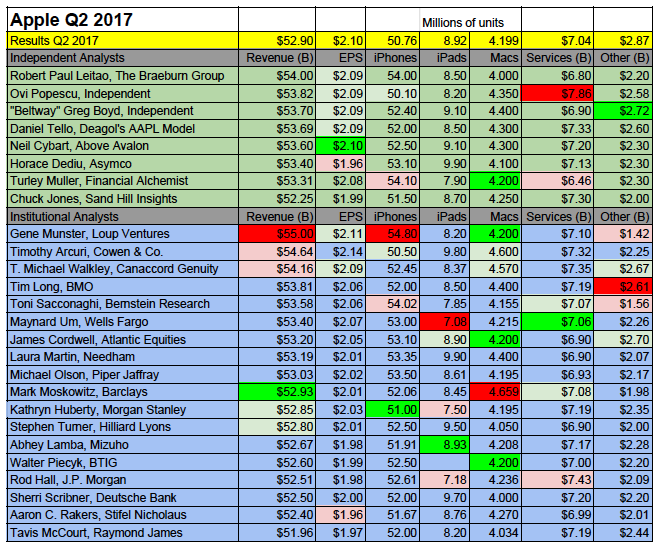 Click to enlarge.
There's an awful lot of red and pink below the line. Just saying.
See also: Apple smackdown Q1 2017.