Samsung falls somewhere in between.
From a post by Decluttr, a UK-based reseller, that landed into my inbox Thursday:
Did you know your phone might be hemorrhaging value even faster than your car? Typically, in the U.S, a car loses between 15 – 20% as soon as it's driven off the lot. Comparing that figure to phone depreciation, it seems like tech items are much faster at losing their value than those big ticket items.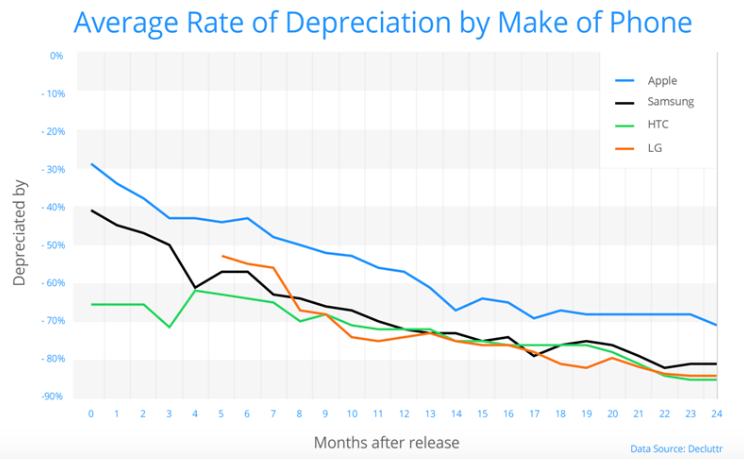 Click to enlarge. Not seeing? Try the website. 
After 12 Months: The worst performer a year in was LG, with its models shedding just under three-quarters of their value by this point. Samsung and HTC phones did slightly better, with both losing 72% of their value. Apple came out on top, with their phones losing a respectable 57%. That might still sound like a lot, but they're the clear winners.
After 24 Months: It's LG and HTC at the bottom, losing 84% and 85% of their value on average respectively. That's significantly more than the 65% an Alfa Romeo Mito loses. Samsung did a touch better, but they still fell well behind Apple's iPhone models.
See the rate of depreciation for your iPhone model here.