Analysts' estimates range from 75 million to 80 million. Average: 77.3 million.
For Apple, December is the Donald Trump of quarters—the one that boasts the hugest sales in the category that matters most: iPhones.
Last year, Apple sold 74.78 million iPhones—a record—and every analyst I've heard from so far expect Apple to beat it.
It's sort of a no brainer. Half-way through the quarter—the one that includes an extra week of sales—Tim Cook was sufficiently confident to tell analysts this:
It's very hard to gauge demand, as you know, when you're selling everything you're making. And so we'll find out more through the quarter, but we're confident enough to give you guys guidance that we're returning to growth this quarter, which obviously feels very good for us.
The estimates are still dribbling in, but of the 17 analysts I've heard from—12 Wall Street professionals and 5 independents—iPhone unit sales range from a low of 75 million to a high of 80 million. The average estimate, 77.3 million, represents 3.4% growth year over year.
Bottom line: After three consecutive quarters of so-called negative growth, iPhone sales seem to be back on a growth curve. Here's what that looks like: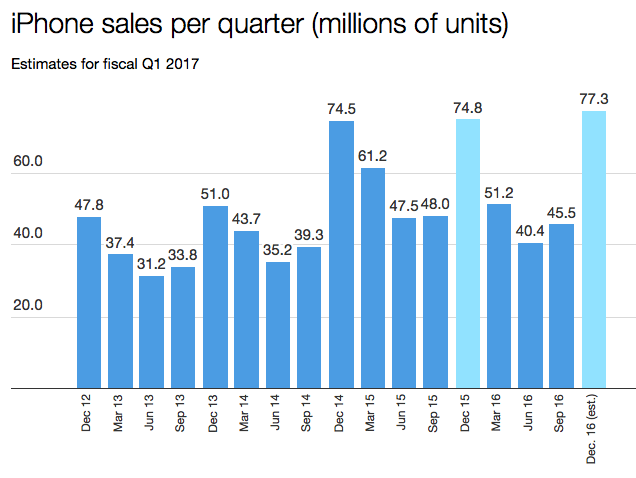 Click to enlarge. Not seeing the graphics? Try the website.
Here, in a shared pdf, are the individual analyst's estimates, independents in green, pros in blue. Thanks as always to Posts at Eventide's Robert Paul Leitao for pulling together the Braeburn Group numbers.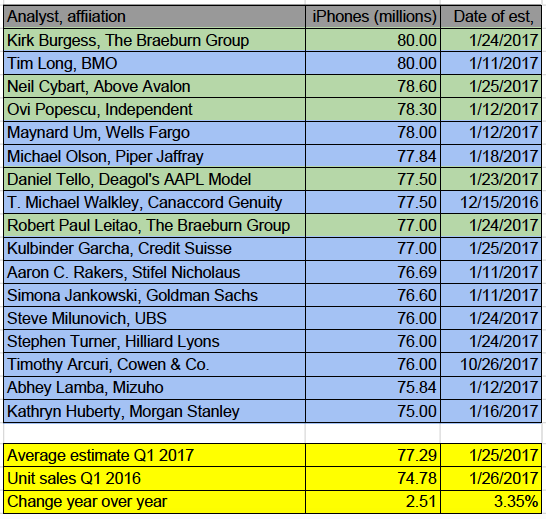 We'll find out who was closest to the mark when Apple reports its Trump-quarter earnings, shortly after the markets close on Jan. 31.