Analysts were a lot less bullish about unit sales three months ago.
In July I asked analysts how many iPhones they expected Apple to sell in the September quarter. I asked again this week and a got a bigger answer. 5.25% bigger.
July estimate: 43 million
Today's estimate: 45.3 million
Here's how that 2.3 million iPhone windfall was spread out among the brokerage firms for which I have before and after estimates:

Not seeing the interactive graphic? Try the website.
Below: The individual analysts' unit sales estimates. We'll find out who was closest to the mark when Apple reports its fiscal Q4 earnings. Tune in Tuesday Oct. 25 after the markets close.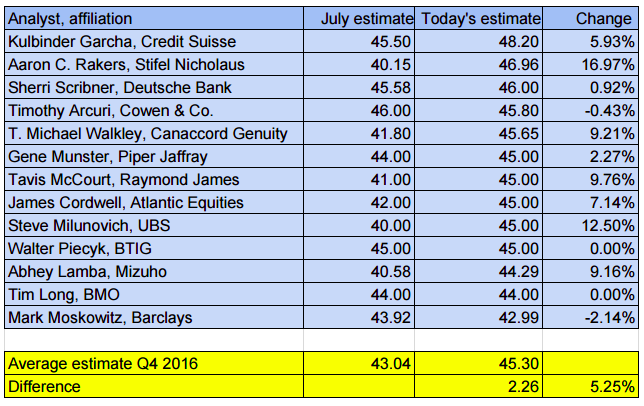 CORRECTION: An earlier version of this story made a classic million-billion error. My first in months.