A tale of two pie charts.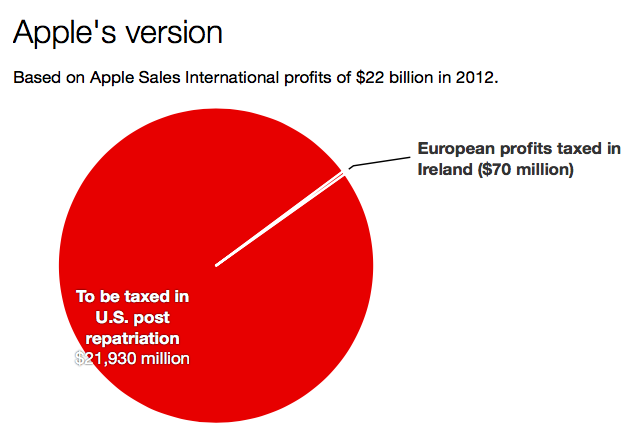 Not seeing the graphics? Try the website. 
From the European Commission press release:
Apple Sales International recorded profits of US$ 22 billion (c.a. €16 billion[1]) but under the terms of the tax ruling only around €50 million were considered taxable in Ireland, leaving €15.95 billion of profits untaxed. As a result, Apple Sales International paid less than €10 million of corporate tax in Ireland in 2011 – an effective tax rate of about 0.05% on its overall annual profits. In subsequent years, Apple Sales International's recorded profits continued to increase but the profits considered taxable in Ireland under the terms of the tax ruling did not. Thus this effective tax rate decreased further to only 0.005% in 2014.
From Apple attorney Bruce Sewell in Frankfurter Allgemeine:
That's not true. We pay tax on our activity in Ireland at the statutory 12.5%. We are the largest tax payer in Ireland, the largest tax payer in the US and the largest tax payer in the world. We paid $13 billion in tax last year and had a reported global tax rate of 26.4%. This isn't an argument about how much tax we pay, but where we pay it. The European Commission appears to believe that despite the fact these profits are legitimately attributable to our head office in Cupertino and subject to tax on a deferred basis, they should be taxed in Ireland. 
Bottom line: 
Apple assumes it will pay U.S. taxes on its European profits when it brings that money home—but only after the tax rate is reduced from its current 35% tax rate.
The European Commission assumes Apple will never pay U.S. taxes on those profits.