Watch the analysts change their tune.
Several Apple analysts used Tuesday's results as an opportunity to fine-tune their 12-month price targets. Among the ones I've seen:
5 raised their targets
3 lowered their targets
9 stayed pat
Most of the changes were small.
Not seeing the interactive graphic? Try the website.
The outlier here is BCG's Colin Gillis at $85 a share. He actually cut his price target on Monday, the day before the earnings report, and advised his clients to sell. The next day, the stock popped and he penned this post-earnings haiku:
While the stock is up,
the underlying metrics,
are all in decline.
For the record, Gillis is the only sell-side analyst on the street with a "sell" rating on Apple, and the only analyst with a price target that's underwater.
Here's my complete list of published targets, as accurate and up-to-date as I can make it. Corrections appreciated.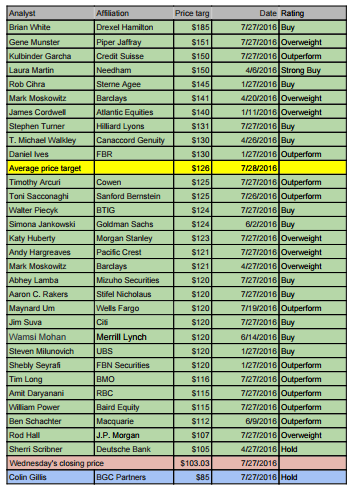 Click to download and enlarge. 
See also: