Of the 12 biggest Apple bears, five funds stood out.
Like Carl Icahn, they flushed the stock right out of their portfolios.
If you wondered where the selling pressure on Apple was coming from last quarter, these funds did their part.
Norges Bank is the national bank of Norway. It manages t

he Government Pension Fund of Norway,

the world's largest

sovereign wealth fund.

Carl Icahn is the activist investor who famously pressured Tim Cook—through tweets and face-to-face meetings—to funnel more of Apple's cash flow to its share holders.
Coatue Management is a tech sector hedge fund led by Phillippe Lafonte, one of the 32 "tiger cubs" who left Tiger Management in 1999.
Renaissance Technologies, founded in 1982 by former Cold War code breaker James Simons, was one of the first successful hedge funds based on quantitative trading.
Arrowstreet Capital is private partnership founded in 1999 by, among others, John Campbell, a British-American professor of economics at

Harvard University

.
For balance, here are the March quarter's 12 biggest buyers. The headline here is the $1 billion worth of Apple picked up last quarter by Warren Buffett's Berkshire Hathaway (see Monday's The Buffett effect.)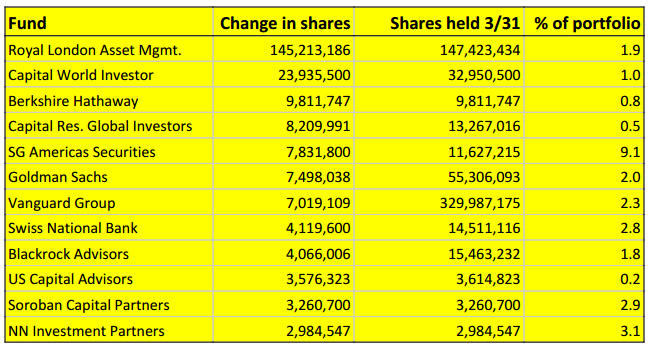 Click to enlarge.
News of the Berkshire Hathaway investment, along with the rest of these data, came from the forms 13F that firms with more than $100 million under management are required to file with the SEC four times a year. For the rest of the 361 days, it bears repeating, most of these institutions are giant black holes.
Whale Wisdom's Daniel Collins, who gathers and sorts the 13Fs each quarter, says Apple topped his list again—both in terms of the number of firms holding the stock and in the value of their holdings. The total number of Apple shares held is down slightly from December, he says, but as a percentage of total 13F holdings, it actually increased about 8%.
"If you look only at hedge funds (at least what we classify as a hedge fund), Apple's share of the overall 13F portfolio increased 22%."
For a better look at the first spreadsheet, click here.