Sixty-six analysts say the stock has nowhere to go but up.
One of the tasks of the so-called sell-side analysts who follow Apple is to tell their buy-side clients where they think the stock will be in a year.
Those 12-month price targets got trimmed two weeks ago when Apple delivered earnings and guidance below Wall Street's consensus. But more than half of the analysts whose targets I've collected in the spreadsheet below stood by their numbers, from Deutsche Bank's ultra-bearish $105 a share to Drexel Hamilton's nose-bleed bullish $200.
[UPDATE: Two weeks before this was posted, Drexel Hamilton's Brian White dropped his Apple price target from $200 to $185. I did something to offend White—well, several things, actually—and I wasn't copied on the memo. I wouldn't normally update a post like this for just one analyst, but White built his reputation on market-high Apple price targets and it didn't feel right to leave him hanging.]
Today's average target price: still $132.
I've seen too many wacky predictions from these guys to put much stock in that number. But it's worth noting that the 40% gap between price ($92.79 at Monday's close) and price target ($132.12) is a big one. Last year at this time the gap was about 10%.
And unlike last year, when the targets of nearly a third of the analysts were under water, none of the 66 listed below is predicting that Apple's shares will be selling for less in a year than they are today.
Here, for what they're worth, are the individual price targets, as accurate and up-to-date as I can make them. Corrections appreciated.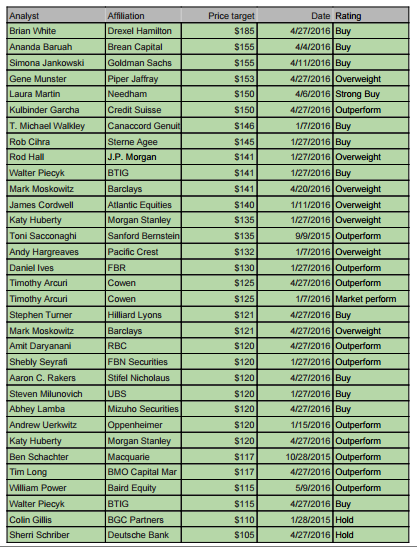 Click to enlarge.