We could get an answer on Monday.
If Tim Cook were of a mind to reveal sales numbers for the first product developed under his watch, 5 p.m. Monday April 25 would be an auspicious time to do it.
It was one year earlier, on April 24, that the Apple Watch hit the market. To announce a nice round number on the device's anniversary is so simple and Apple-like that I will take it as a sign of weakness if Cook doesn't say something—anything—about first-year sales.
At this point, expectations are so low that an upside surprise is not impossible. Neil Cybart in a note to his Above Avalon subscribers Wednesday tracked the sad slide of his first-year estimates: From 20-30 million in November 2014, after the Watch was unveiled; to 28 million in March 2015, just before launch; to 15 million today.
"To say that Apple Watch pessimism is on the rise would be an understatement," he writes. "We are at the point of the cycle in which reaction to Apple Watch seems to depend on whether you wear one on a daily basis."
In the spreadsheet below, Cybert (2.6 million units) is even more pessimistic than most. The estimates range all the way from 1.25 million to 4.5 million, but there seems to be some kind of fractal strange attractor in 2.84 million. It's the pros' average estimate, the indies' average estimate, and the overall consensus.
Below: The individual analysts, pros in blue, indies in green.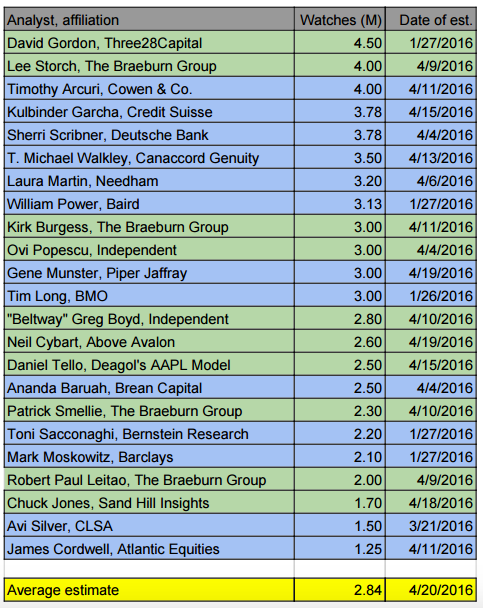 Thanks as always to Posts at Eventide's Robert Paul Leitao for pulling together the Braeburn Group numbers.