Fewer than last year, that's for sure.
Next week, when Apple reports its March quarter earnings, reporters who haven't been paying attention will express surprise and alarm that for the first time ever Apple sold fewer iPhones than the year before.
Alarm may or may not be appropriate. But nobody should be surprised. Apple warned three months ago that revenues were going to come in between $50 and $53 billion in fiscal Q2, well below the $58 billion the company racked up in March 2015 on pent-up demand for Apple's first jumbo smartphones.
So how many iPhones did Apple sell last quarter? We'll know for sure on Monday, when Apple reports unit sales.
Meanwhile, I've got a rule of thumb: Every $1 billion revenue  = 1 million iPhones
The guys who do this for a living have far more sophisticated models, but their results aren't that different. Of the 28 analysts I've heard from so far—20 Wall Street professionals and 8 independents—all but six offered iPhone unit sales estimates between 50 million and 53 million.
The pros, as usual, are more cautious than the indies. The low estimate of 47 million was submitted by Cowan and Co.'s Timothy Arcuri; the high of 54.5 million came from Robert Paul Leitao of the independent Braeburn Group.
We'll find out who was closest to the mark after the markets close on Monday, April 25.
Meanwhile, two charts and spreadsheet.
The first shows historical iPhone sales by quarter and the Apple 3.0 March quarter estimates. Note the tough compare with March 2015.
The second chart shows the year over year comparisons interactively. I'm using the consensus of my 28 analysts as a proxy for last quarter's iPhone sales.
Finally, the individual analysts' estimates—pros in blue, indies in green.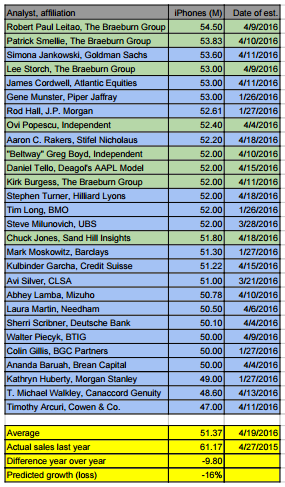 Thanks as always to Posts at Eventide's Robert Paul Leitao for pulling together the Braeburn Group numbers.