Watch Apple's co-founder go after the government on Conan O'Brien.
Most of Apple's supporters in its stand-off with the FBI have stuck to the principles at stake—security, privacy, safety, the First and Fifth Amendments, etc.
They've mostly steered clear of the FBI's dubious contention that the iPhone owned by one of the San Bernardino shooters contains valuable terror-fighting evidence.
Not Steve Wozniak. Apple's co-founder lit into the FBI's case on Conan O'Brien's show last night.
"They picked the lamest case," Woz told the late-night comedian. "Verizon turned over all the phone records, all the SMS messages. So they want to take this other phone, that the two didn't destroy, which was a work phone, and it's so lame and worthless to expect something's on it."
Here's a look at Wozniak's take:
Wozniak could be channeling Edward Snowden, who tweeted a similar critique shortly after the story broke: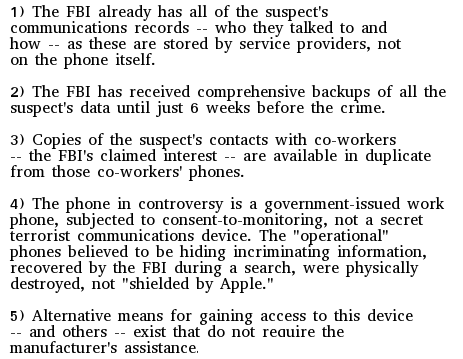 "Journalists: Crucial details in the @FBI v. #Apple case are being obscured by officials," Snowden wrote, "Skepticism here is fair."
Is the FBI making a mountain out of what could be a evidentiary mole hill?
One official who thinks so is San Bernardino police chief Jarrod Burguan.
"I'll be honest with you," he told NPR two weeks ago. "I think that there is a reasonably good chance that there is nothing of any value on the phone."