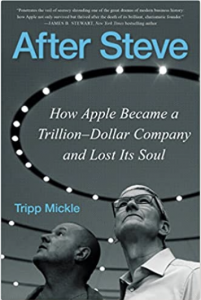 Swisher: When Steve Jobs died in the fall of 2011, many thought Apple wouldn't be able to thrive without him. Of course, the opposite has come true as Apple has become one of the most valuable companies on the planet. To what do you attribute that?
Mickle: Tim Cook and the rest of the Apple leadership team deserve a great deal of credit for proving the skeptics wrong. Early on, Cook did an admirable job of keeping together the team Jobs assembled and encouraging it to find a new way of working. He empowered Jony Ive, Apple's design chief, to lead the development of the Apple Watch. The project gave birth to AirPods — and a nearly $40 billion annual business. It also alleviated, for a time, questions from customers and Wall Street about whether Apple could create another new product category.
Perhaps more important, Cook increased Apple's financial discipline, controlled costs and found a way to squeeze more sales out of the iPhone through apps and subscription services. The profitability of that business increased Apple's value in the eyes of Wall Street. Essentially, Cook recognized that the iPhone had made Apple more powerful than any cable or wireless company in history because its signature product, as Oprah said, was in one billion pockets.
My take: Good to see Mickle giving Cook his due. In the book, which reads like a love song to Jony ("The Artist") Ive, Cook plays the automaton who cost Apple its "soul."