With 100 stores un-shuttered around the world, and 25 scheduled to re-open in the U.S. this week, Apple models best practices.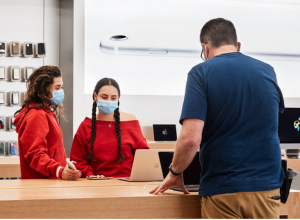 From a letter to customers by retail chief Dierdra O'Brien posted Sunday:
Face coverings will be required for all of our teams and customers, and we will provide them to customers who don't bring their own. Temperature checks will be conducted at the door, and posted health questions will screen for those with symptoms — like cough or fever — or who have had recent exposure to someone infected with COVID‑19. Throughout the day, we're conducting enhanced deep cleanings that place special emphasis on all surfaces, display products, and highly trafficked areas.
We've also taken this time to consider how we can serve our customers' needs even more effectively, whether online or in our stores. For many stores, that will mean curb‑side pick‑up and drop off. If you choose to buy online, we can ship to your home or make your new items available for convenient pick‑up at our stores.
My take: Does it sound like Tim Cook expects the virus to magically disappear?
See also: Apple Stores reopen with masks, 2 meters and a gun