Could be a lot, could be a little. It's complicated. 
Put aside for the moment Apple's re-accounting of Product and Services revenue that has totally messed up everybody's year-over-year comparisons. More on that below.
Using the old numbers, revenue from Apple services has been growing at a healthy clip. We know from Tim Cook's Jan. 2 letter that Services in the December quarter generated more than $10.8 billion in revenue, up 27% year over year. Putting that in context, Services revenue grew...
23% in fiscal 2017
24% in fiscal 2018
27% in fiscal Q1 2019
Still sticking with the old accounting method, two analyst surveys have Apple's March quarter Services growth slowing in Q2 2019.
By comparison, that revenue grew 31% in the same quarter last year.
A weakening of Services growth is not a good look for Apple. Not now, not with iPhone sales growth stalled. But it gets worse. (Warning: This is the complicated part.)
According to a schedule Apple released last November:
Starting in 2019, in connection with the adoption of the new revenue accounting standard, Apple will classify the amortization of the deferred value of Maps, Siri and free iCloud services, which are bundled in the sales price of iPhone, iPad, Mac and certain other products, in Services net sales. Historically, Apple classified the amortization of these amounts in Product net sales consistent with its management reporting framework. As a result, the 2018 net sales information has been reclassified to conform to the 2019 presentation. [Click here for Apple's spreadsheet of revised net sales.]
Measured against the reclassified Services revenue for Q2 2018, the two consensus estimates yield even lower growth:
Visible Alpha: 13.9%
Apple 3.0: 14.6%
My take: Unless the Street has already taken these changes into account, which I doubt, this is not going to be well-received.
Below: The estimates of the 15 analysts that I have on record, pros in blue, indies in green. (Corrections appreciated.)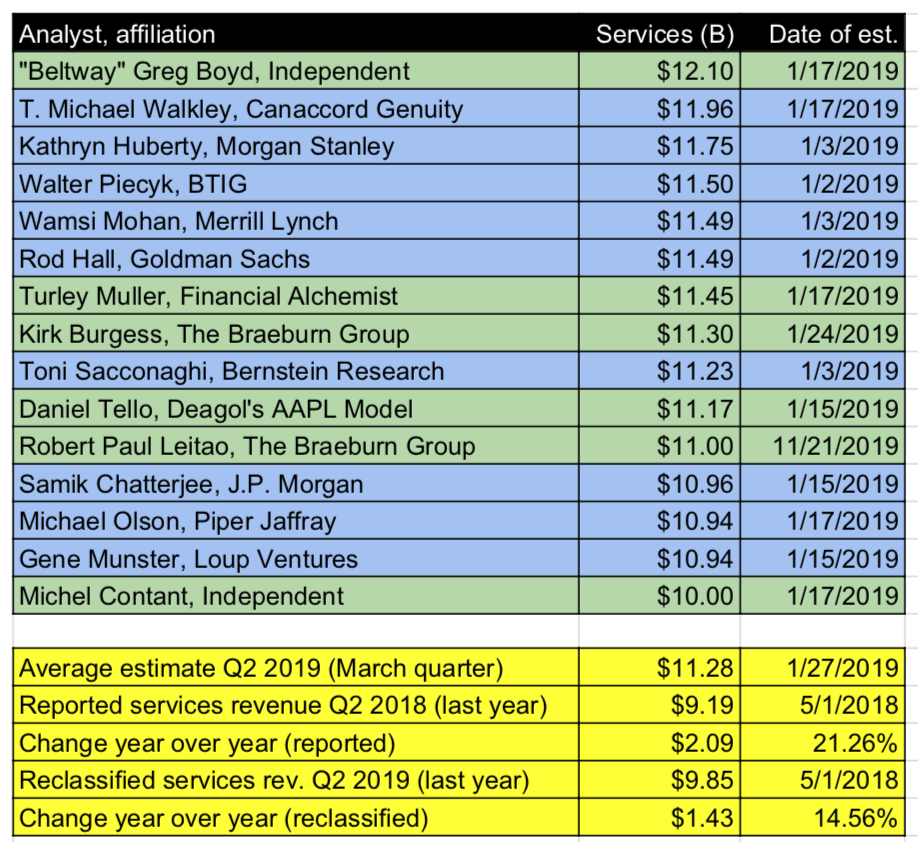 Click to enlarge.