Plus: Why Apple is making phones that last longer.
From Internet, social media use and device ownership in U.S. have plateaued after years of growth:
The shares of U.S. adults who say they use the internet, use social media, own a smartphone or own a tablet computer are all nearly identical to the shares who said so in 2016. The share who say they have broadband internet service at home currently stands at 65% – nearly identical to the 67% who said this in a survey conducted in summer 2015. And when it comes to desktop or laptop ownership, there has actually been a small dip in the overall numbers over the last two years – from 78% in 2016 to 73% today.
A contributing factor behind this slowing growth is that parts of the population have reached near-saturation levels of adoption of some technologies. Put simply, in some instances there just aren't many non-users left. For example, nine-in-ten or more adults younger than 50 say they go online or own a smartphone. And a similar share of those in higher-income households have laptops or desktops.
Below: Full chart (click to enlarge).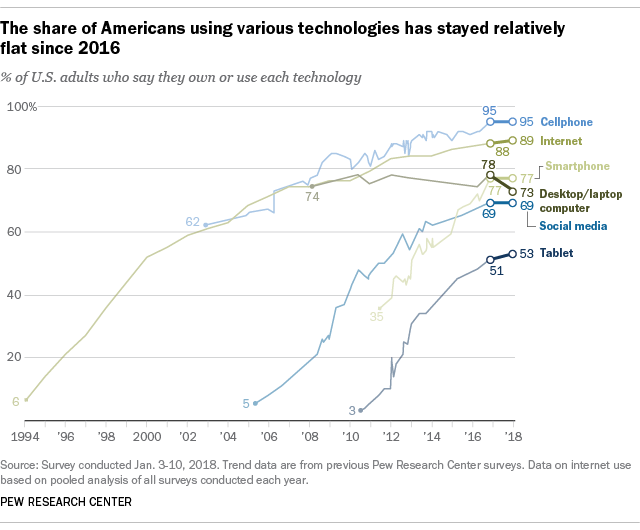 My take: Looks a lot like the work of friend-of-the-blog Horace Dediu, who has made a multiyear study of saturation as it relates to Apple (see, for example,  here). Two weeks ago Dediu suggested that it makes counterintuitive sense for the company, in a saturated market, to make devices that last longer. From Asymco: Lasts longer:
Fundamentally, Apple is betting on having customers not selling them products.