They have boots on the ground.
I hope Morgan Stanley will forgive me for posting the video below, taken from a note sent to clients Friday morning.
There's been a lot of naysaying in New York about iPhone's—and Apple's—prospects in India. Parag Gupta and Jerry Liu, two Morgan Stanley analysts who know the territory, think different.
Among their bullet points:
India is adding three new Internet users every second, which puts it roughly where China was seven years ago.
Smartphone penetration on the subcontinent is on track to hit 60% by 2020, up from 32% today
In a Morgan Stanley survey, Indian buyers said they were willing to spend more ($180 up from $132) on their next smartphones, which benefits Apple and Samsung
"Similar to China," says Liu, "we expect Apple and Samsung to dominate at the high end and garner most of the profit pool in India over time."
Here's Morgan Stanley's chart showing Apple doubling market share for $400+ smartphones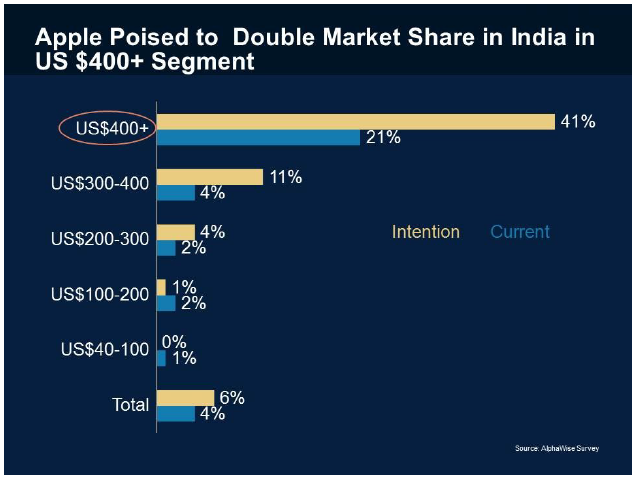 Here's the Morgan Stanley video: